Champagne on ice for Wimbledon, Murray says
Andy Murray warned Novak Djokovic he has the champagne on ice as the Queen's Club history maker plots to end the world No. 1's reign as Wimbledon champion.
Murray completed the perfect warmup for Wimbledon when the world No. 2 defeated Milos Raonic 6-7 (5/7), 6-4, 6-3 on Sunday to retain the Queen's title and lift the trophy for a record fifth time.
With Wimbledon getting under way on June 27, Murray looks well placed to emulate his historic 2013 triumph at the All England Club. However, the 29-year-old knows he is likely to have to defeat Djokovic, who has won Wimbledon for the last two years, to earn the third Grand Slam of his career.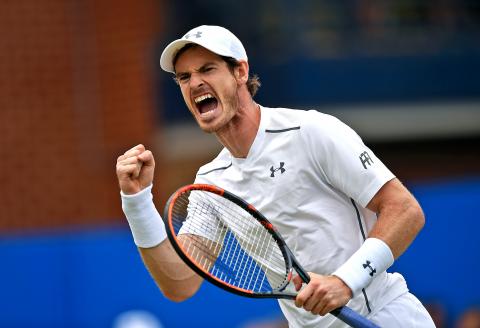 Britain's Andy Murray reacts after winning a point in the Aegon Championships final against Canada's Milos Raonic in London on Sunday.
Photo: Reuters
Despite losing to Djokovic in 13 of their past 15 meetings, including this year's Australian and French Open finals, Murray believes the return to his camp of coach Ivan Lendl this week can make the difference in the grass-court Grand Slam.
Asked what he would do with the large bottle of champagne given to him by Queen's officials, Murray issued a statement of intent to Djokovic.
"I'll take it home, I guess, and hopefully maybe have something to celebrate in a few weeks. Yeah, keep it for after Wimbledon," he said.
While Djokovic has been resting following the long-awaited completion of his career Grand Slam at Roland Garros, Murray has been honing his grass-court game and getting reacquainted with Lendl, who proved an invaluable presence when the Scot defeated Djokovic in the Wimbledon and US Open finals.
Murray is also encouraged by reaching four finals in his last four tournaments, a run that has brought him two titles including his victory over Djokovic on the Rome clay last month.
"I'm pretty sure I wouldn't have done that before," Murray said. "It's a sign things have been going in the right direction the past few months. I'm giving myself chances every week right now and winning a lot of matches. It's been a good three months or so, and I need to try to keep that up between now and the end of the year. That's the goal."
Since claiming his first ATP Tour match win at Queen's in 2005, the venue has retained a special place in Murray's heart and he was visibly moved by surpassing four-time champions John McEnroe, Boris Becker, Andy Roddick and Lleyton Hewitt.
"It's a tournament that obviously means a lot to me. It's been my most successful tournament by far," he said. "To be the first player to win five times, it's not an easy tournament to win. It always has a great field and the players I have beaten in the finals have been top players."
However, Murray will not be resting on his laurels and will head straight to Wimbledon for a practice session on Monday.
"It's obviously good preparation to win the event right beforehand, but I still have eight days until my first match at Wimbledon, so there's time to make things better and there's also time to mess things up," he said.
"If I have five rubbish days of practice and don't put everything into it and concentrate on what I'm trying to do and get better, then I can go into Wimbledon feeling rubbish," he added. "It's been great, but I'm aware that I need to stay on it these next seven days. If I do that, then I'll put myself in a good position."
Murray does at least plan to spend a day or two with wife Kim and baby Sophia before the Wimbledon whirlwind.
"I'll take a couple of off days next week because I need it," he said. "Most of the time it's just being around the family, go for a walk with the dogs, do normal stuff away from the court. I'm looking forward to it."
Comments will be moderated. Keep comments relevant to the article. Remarks containing abusive and obscene language, personal attacks of any kind or promotion will be removed and the user banned. Final decision will be at the discretion of the Taipei Times.