Logan Couture says everyone cheats at faceoff time
San Jose center Logan Couture says Sidney Crosby is not the only player cheating in faceoffs in the Stanley Cup Finals.
Couture said that he, teammate Joe Thornton and just about every other player who gets in the faceoff circle tries for any sort of edge they can get, legal or otherwise.
"Everyone cheats on faceoffs," Couture said on Friday. "I cheat, Jumbo [Thornton] cheats. That's how you try to win draws. He's one of the best at it. He wins a lot of faceoffs."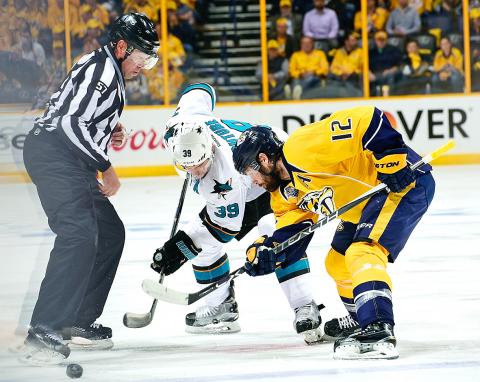 The San Jose Sharks' Logan Couture, center, vies for the puck in a faceoff against Mike Fisher of the Nashville Predators in Nashville, Tennessee, on May 9.
Photo: AFP
Couture caused a bit of a storm after Game 2 when he accused Crosby of cheating on faceoffs. It was a faceoff win by Crosby in overtime that set up Pittsburgh's game-winning goal by Conor Sheary that gave the Penguins a 2-0 series lead.
Crosby said he was surprised when he heard the accusation and said he does not do anything other players do not do.
"I think we are all doing the same thing in the faceoff circle," Crosby said.
Crosby and Couture both said they do not think the dispute will have any bearing on yesterday's Game 3.
Crosby said it would not add any fuel for him, while Couture said he was not trying to lobby linesmen to kick Crosby out of the circle in future games.
"Not at all," Couture said. "These guys are the best in the world at what they do. I have no complaints of the officials throughout these playoffs. They've been very, very good."
Pittsburgh coach Mike Sullivan did not even want to respond to Couture's accusations, but does agree with the Sharks center on one aspect: Everyone is cheating to an extent.
"That's all part of being a center iceman, trying to figure out a way to get an edge and be successful," Sullivan said. "Sid isn't doing anything their guys aren't doing."
Crosby won 26 of 40 faceoffs in the first two games, none more important than the clean win in the offensive zone against Joel Ward in overtime in Game 2 that set up Sheary's goal.
Couture was not in the faceoff circle for that draw and Ward took the blame on himself for the play.
"I just have to be better is the bottom line," he said.
Couture is one of the few Sharks to hold his own against Crosby in the faceoff circle this series, winning four of seven draws.
San Jose have struggled as a team on draws this post-season. After winning 50.7 percent of faceoffs in the regular season for the 10th-best mark in the league, the Sharks are last of all 16 playoff teams at 46.7 percent in the post-season.
Comments will be moderated. Keep comments relevant to the article. Remarks containing abusive and obscene language, personal attacks of any kind or promotion will be removed and the user banned. Final decision will be at the discretion of the Taipei Times.