Marlins complete Dodgers sweep
Dee Gordon and Martin Prado drove in the tying and go-ahead runs with consecutive two-out singles in the seventh inning, and the Miami Marlins got home runs from Giancarlo Stanton and J.T. Realmuto to beat the Los Angeles Dodgers 5-3 on Thursday night to complete a four-game sweep.
After the game, Major League Baseball announced that Gordon, the reigning NL batting champion, has been suspended for 80 games after testing positive for performance-enhancing substances.
Jose Fernandez (2-2) allowed two runs and five hits in six innings, striking out eight and walking three.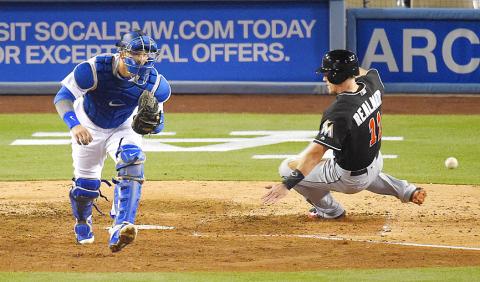 Miami Marlins' J.T. Realmuto, right, scores on a single by Dee Gordon as Los Angeles Dodgers catcher Yasmani Grandal takes a late throw during the seventh inning of their MLB game on Thursday in Los Angeles, California.
Photo: AP
The right-hander was lifted for a pinch-hitter during the Marlins' pivotal three-run rally.
Kenta Maeda (3-1) was charged with four runs and seven hits over 6-2/3 innings in his fifth big league start, after allowing just one run in 25-2/3 innings.
The Japanese-born right-hander took a 2-1 lead into the seventh before Gordon chased him with his RBI single. Prado then greeted Pedro Baez with a first-pitch single, and the right-hander balked home Gordon with the Marlins' fourth run.
Stanton added his 18th homer in the eighth against Baez, and A.J. Ramos got three outs for his sixth save.
The Dodgers grabbed a 2-0 lead in the first with Yasmani Grandal's double over the head of center fielder Ichiro Suzuki and a run-scoring infield hit by Yasiel Puig. Maeda struck out his first two batters in the second, but Realmuto lined the next pitch to right-center for his second homer of the season.
Dodgers first baseman Adrian Gonzalez came up with two men on base his first three times up and came up empty each time.
Fernandez struck him out the first two times, then fielded a fifth-inning dribbler and tagged him halfway up the first base line.
In other MLB action, it was:
‧ Cubs 7, Brewers 2
‧ Phillies 3, Nationals 0
‧ Tigers 7, Athletics 3
‧ Orioles 10, White Sox 2
‧ Braves 5, Red Sox 3
‧ Diamondbacks 3, Cardinals 0
Comments will be moderated. Keep comments relevant to the article. Remarks containing abusive and obscene language, personal attacks of any kind or promotion will be removed and the user banned. Final decision will be at the discretion of the Taipei Times.