Oshie completes hat-trick in OT for win
CHILDHOOD DREAM: T.J. Oshie said the game was the kind of thing he had dreamt about. Replays supported the final goal, although Matt Murray was not convinced
Washington's T.J. Oshie completed his hat-trick in overtime to give the Capitals a 4-3 win against Pittsburgh on Thursday in a classic start to their NHL second-round playoff series.
The Capitals snatched victory in a series billed as a clash between star players Alex Ovechkin of Washington and Pittsburgh's Sidney Crosby in their first playoff showdown for seven years, but instead it was Oshie that stole the show.
"That's kind of the stuff you dream about when you're a kid playing in the backyard by yourself is scoring the OT winner and getting a hat-trick," Oshie said. "It was awesome. Great way to win."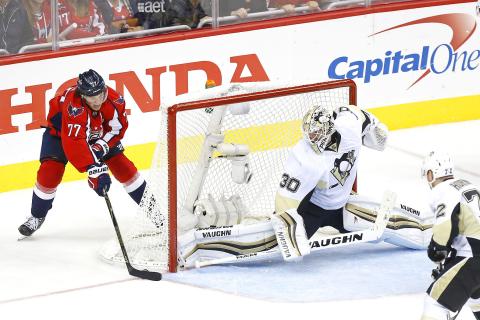 Washington Capitals right wing T.J. Oshie, left, scores the game-winning goal on Pittsburgh Penguins goalie Matt Murray, center, in overtime in Game 1 of the second round of the Stanley Cup Playoffs at Verizon Center in Washington on Thursday.
Photo: Geoff Burke-USA TODAY
Oshie's wraparound just barely crossed the goal line against the right pad of Pittsburgh goaltender Matt Murray 9 minutes, 33 seconds into overtime. The call on the ice was a goal, and the video replay confirmed that the puck was completely over the line.
Murray, who made 31 saves, but was beaten three times by Oshie and once by Andre Burakovsky, was not convinced.
"The ref called it a goal on the ice," Murray said. "I don't know how he could have possibly seen it from his angle, but I thought I had it, to be honest. I knew it was close, but I thought it never fully crossed the line. I thought it was close enough that it would be inconclusive."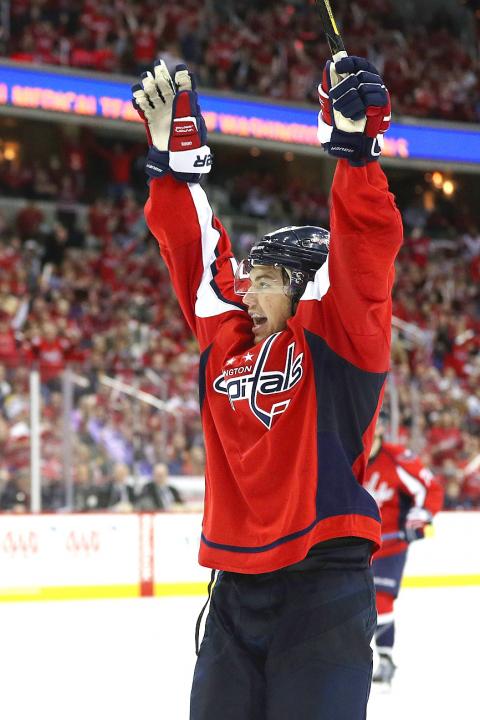 T.J. Oshie of the Washington Capitals celebrates after scoring the game-winning goal to give the Capitals a 4-3 overtime win against the Pittsburgh Penguins in Game 1 of their second-round Stanley Cup playoff series in Washington on Thursday.
Photo: AFP
Ben Lovejoy, Evgeni Malkin and Nick Bonino scored for Pittsburgh, who will try to even the best-of-seven series tonight in Game 2.
It will be hard to match the entertainment value that was on display in Game 1. Beyond Murray stopping Ovechkin on two breakaways, and Braden Holtby turning aside 42 of 45 shots, there were goals off the rush, a knee-on-knee hit by Washington's Tom Wilson on Conor Sheary and even Jay Beagle getting a stick stuck between his helmet and visor.
"The momentum shifts, the big hits, the goals, overtime, the big saves: This is what the playoffs are all about," Oshie said.
Ovechkin assisted on Oshie's second goal, but went goalless while Crosby was on the ice for three goals against and won 68 percent of his faceoffs.
"I just make stupid plays, stupid moves," Ovechkin said about his failed breakaways. "Thanks God we won this game."
Oshie, traded from St Louis to the Capitals last offseason, won for the first time in the playoffs when scoring a goal. This was a huge stage for him to step up on, especially because Washington acquired him to win in the playoffs.
"His work ethic is through the roof," goalie Braden Holtby said. "That shows in these games that he's going to be one of those guys that's really key for us."
Comments will be moderated. Keep comments relevant to the article. Remarks containing abusive and obscene language, personal attacks of any kind or promotion will be removed and the user banned. Final decision will be at the discretion of the Taipei Times.