Japan's Hanyu leads after flawless program at worlds
Yuzuru Hanyu, the Japanese skating star who often trains in Toronto, started to answer a question in English about the pressure he faces and then had to stop himself.
"I can't explain — I'm speaking Japanese, sorry," he said with a sheepish laugh.
That was about the only thing the Olympic gold medalist could not do flawlessly on Wednesday at the world championships, when he took a large lead after the short program. It was the latest stellar performance in a brilliant season for the 21-year-old Hanyu, who was a fraction of a point from the record score he set in December's Grand Prix Final.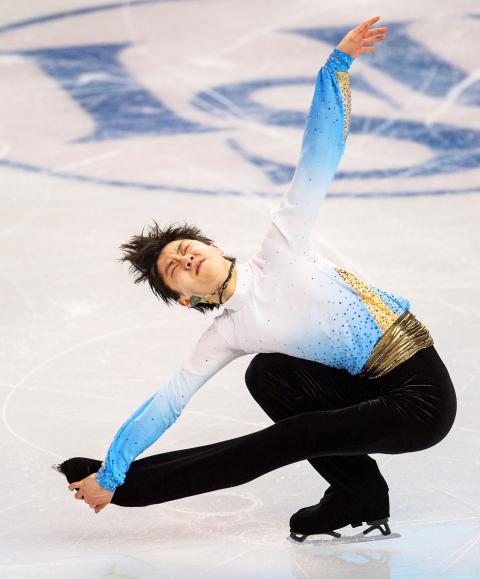 Yuzuru Hanyu of Japan competes at the ISU World Figure Skating Championships in Boston, Massachusetts, on Wednesday.
Photo: EPA
"My standard has been rising — I do feel the pressure, but it doesn't really affect my performance," he went on to say through a translator. "I want to really enjoy my skating, and I think I was able to show that today."
With dozens of Japanese flags waving in the stands, he scored 110.56 points to lead defending champ Javier Fernandez by more than 12. Hanyu effortlessly landed two quadruple jumps while his main rivals fell.
Spain's Fernandez, who also is coached by two-time Olympic silver medalist Brian Orser, knew that adding a second quad to his short program was a risk, and he fell on the salchow to finish with 98.52 points.
"More than the mistake, I think everything was pretty good," Fernandez said. "That's why I think I got the big score even having the fall with the second quad."
Three-time world champ Patrick Chan of Canada, back after taking last season off, fell on his triple axel and earned 94.84 points.
"I'm very happy with how much I've improved already this year being a comeback year," Chan said. "To be in the last group, to be even top three, for me is a huge achievement."
Comments will be moderated. Keep comments relevant to the article. Remarks containing abusive and obscene language, personal attacks of any kind or promotion will be removed and the user banned. Final decision will be at the discretion of the Taipei Times.