Former Honduran president Callejas pleads guilty in NY
Former Honduran president Rafael Callejas on Monday pleaded guilty in New York to conspiracy to commit racketeering and wire fraud in connection with the FIFA corruption scandal rocking world soccer.
The 72-year-old, who has been free on US$4 million bail in the US since leaving Honduras by private jet in December last year to face justice, is to be sentenced on Aug. 5.
The two counts each carry a maximum sentence of 20 years in jail.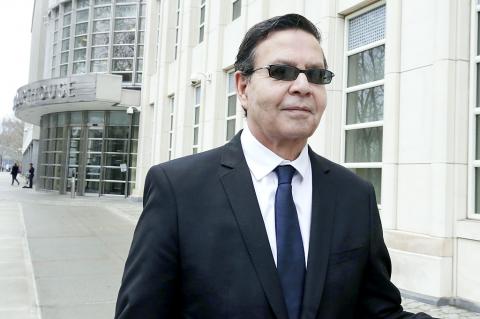 Former Honduran president Rafael Callejas leaves federal court in Brooklyn, New York, on Monday.
Photo: AP
"Guilty," Callejas told Magistrate Judge Robert Levy in a federal court in Brooklyn, entering his plea.
He spoke calmly in fluent English with a US accent and was dressed in a dark suit.
Callejas served as president of Honduras from 1990 to 1994. He was head of the nation's soccer federation from 2002 to 2015 and is also a former member of FIFA's television and marketing committee.
He originally faced eight charges of racketeering, fraud and money laundering, to which he pleaded not guilty on Dec. 15 last year.
"I knew it was wrong," he told the court on Monday, admitting to receiving bribes for awarding media and marketing rights contracts to a Florida-based company for Honduras FIFA World Cup qualifiers.
As part of his plea, he agreed to forfeit US$650,000 — US$180,000 to be paid within one week and the balance due within 12 months.
He is one of 39 officials and marketing executives accused of soliciting and receiving tens of millions of US dollars in bribes and kickbacks in a case that has sparked an unprecedented crisis at FIFA.
US prosecutors accused Callejas of receiving US$1.6 million in bribes between March 2011 and January 2013 for the broadcast rights of games played by the Honduras national team.
They said Florida company Media World paid the bribes from its US bank accounts through an intermediary to overseas accounts of Callejas and a co-conspirator.
Monday's plea brings to 14 the number of individuals that have pleaded guilty and agreed to cooperate with US prosecutors in the FIFA case in exchange for a possible reductions in their sentences.
Callejas told the judge that he had been under treatment from a cardiologist and is taking medication.
On Tuesday last week, Costas Takkas, the former Cayman Islands Football Federation general-secretary, became the latest FIFA suspect extradited from Switzerland to appear in a New York court.
Takkas pleaded not guilty before Magistrate Judge Viktor Pohorelsky and was released on US$1 million bail with a US$25,000 cash deposit, court documents showed.
The 57-year-old accountant, who has British and Greek citizenship, is to be confined to house arrest in Florida, allowed to leave only to see his doctors, lawyers, go to court or to attend religious services.
Takkas, who was born in Cyprus, was one of six FIFA officials arrested in May last year in Zurich, Switzerland, at the request of US authorities.
The US judge granted him 60 minutes of exercise a day in a gym in the building of his Florida residence.
The US corruption investigation precipitated the downfall of longtime FIFA president Sepp Blatter and his former heir apparent, former UEFA president Michel Platini, who have both been banned from the sport for six years for ethics violations.
Comments will be moderated. Keep comments relevant to the article. Remarks containing abusive and obscene language, personal attacks of any kind or promotion will be removed and the user banned. Final decision will be at the discretion of the Taipei Times.