Westbrook, Thunder beat Rockets 111-107
Russell Westbrook had 21 points, 15 assists and 13 rebounds to help the Thunder beat the Houston Rockets 111-107 on Tuesday night.
Westbrook has 15 triple-doubles this season and 34 in his career. It was the most triple-doubles by a player in a season since 1988-1989, when Magic Johnson had 17 and Michael Jordan had 15.
It was also Westbrook's sixth triple-double in March. According to STATS, it was the most by a player in a calendar month since Jordan had seven in April 1989. It was his third in a row and fourth in his past five games.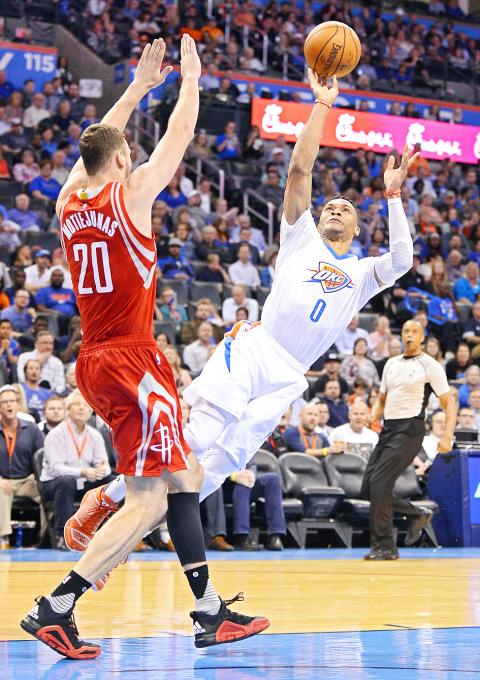 The Houston Rockets' Donatas Motiejunas, left, tries to block a shot by the Oklahoma City Thunder's Russell Westbrook in the second half of their NBA game at Chesapeake Energy Arena in Oklahoma City, Oklahoma, on Tuesday.
Photo: EPA
Kevin Durant scored 23 points and Dion Waiters added 17 to help the Thunder win their fifth straight.
James Harden had 24 points, a career-high 16 assists and seven rebounds for the Rockets. Dwight Howard had 16 points and 13 rebounds and Patrick Beverley added 16 points.
LAKERS 107, GRIZZLIES 100
In Los Angeles, Jordan Clarkson scored 22 points and Kobe Bryant added 20 as the Lakers snapped a four-game losing streak.
Bryant scored 12 points in the third quarter, but the superstar sat out the final 4 minutes, 20 seconds. Brandon Bass got eight of his 18 points in the fourth while Los Angeles' younger players closed out an unlikely victory over the playoff-bound Grizzlies, who had won the clubs' first three meetings of the season.
The Western Conference-worst Lakers wrapped up an eight-game homestand with three wins, beating contenders Golden State and Memphis.
Tony Allen made all 12 of his shots while scoring 27 points for the Grizzlies, who had won two straight. Zach Randolph and Lance Stephenson added 16 points apiece.
HEAT 113, PELICANS 99
In New Orleans, Hassan Whiteside had 24 points, 14 and three blocked shots to lead Miami past injury-ravaged New Orleans.
Dwyane Wade and Goran Dragic each scored 23 points for the Heat, who have won nine of 12 games to put Miami in position to grab a playoff seeding as high as third in the Eastern Conference.
Jrue Holiday scored 24 for New Orleans, but missed 16 of his 23 shots. His shooting struggles against Miami's stout defense was part of a theme for New Orleans, who shot only 39.1 percent (34 of 87) for the game.
Luke Babbitt scored a season-high 23 points for the Pelicans, who trailed by double digits for much of the game before briefly getting as close as five points in the fourth quarter.
HORNETS 105, NETS 100
In New York, Nicolas Batum scored 23 points to lead Charlotte past Brooklyn.
Jeremy Lin added 21 points, a night after scoring 29 in Charlotte's rally from 23 down to beat the San Antonio Spurs.
Brook Lopez had 29 points, nine rebounds and a season-high six assists, and Sean Kilpatrick added a career-high 25 points for the Nets.
Batum hit two big shots down the stretch to key the win. Batum had a four-point play to put Charlotte up 91-84 with 4:11 left and 3-pointer to extend the lead to 96-88 with 2:44 remaining.
Bojan Bogdanovic cut the deficit to 98-97. Kemba Walker then sank two free throws to push Charlotte's lead to 100-97 and the Hornets never looked back.
Comments will be moderated. Keep comments relevant to the article. Remarks containing abusive and obscene language, personal attacks of any kind or promotion will be removed and the user banned. Final decision will be at the discretion of the Taipei Times.