Jones wants historic England series win in Australia
England head coach Eddie Jones on Monday challenged his Grand Slam-winning players to "rewrite history" and become the first England team to win a Test series in Australia.
However, the former Wallabies head coach also issued a warning to his side that no-one is guaranteed a place onboard the flight in June unless "they carry on improving and are mentally ready for the next step up."
Jones has fixed his ambitious sights on developing the team he guided to England's first Six Nations clean sweep in 13 years into a force capable of upsetting Australia in their own back yard in June.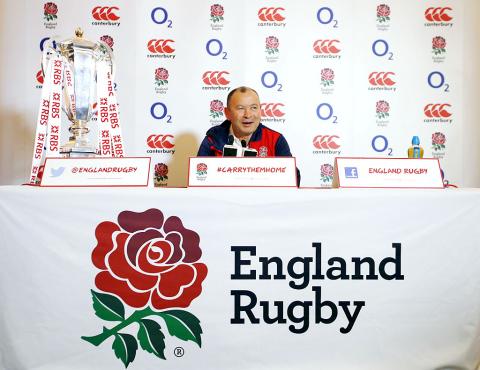 England head coach Eddie Jones speaks to reporters at the Grand Slam winners' press conference beside the Six Nations Championship trophy at Pennyhill Park Hotel in Bagshot, England, on Sunday.
Photo: Reuters
Celebrations following Saturday's Grand Slam-sealing victory over France quickly came to an end as the England players returned to their clubs for the final months of the season before contemplating the clashes with the Wallabies.
It is to be the first time the two nations have done battle in a three-Test series in Australia and Jones, who was Wallabies head coach from 2001 to 2005, knows all too well the enormity of the task ahead.
England have won just three of the 17 Tests played there between the sides, one of which was the 2003 World Cup final, and have generally had a miserable time of it Down Under.
"Perhaps it's time to improve on that record. It's time to make the history books look a little better," said Jones, whose side faces Michael Cheika's men in Brisbane, Melbourne and Sydney.
"If I didn't think it was possible to take a squad of players over to Australia and win a series, I shouldn't be coaching the national side. There will be no excuses. We have so many fine players to choose from," Jones said. "It just comes down to whether we have enough desire and talent to do it. And I can assure you we certainly do have those things."
"To win a Grand Slam must just be the start. To keep improving is now the big challenge ahead," he said. "Why do you think New Zealand were able to come back from what happened in 2007 to win two World Cups in eight years? Because the likes of Richie McCaw and the rest wanted to keep improving — and they did."
"The players have gone back to their clubs and if I was one of them I'd be so excited about the prospect of playing some crucial games for their clubs with the chance of proving they deserve to be on the plane to Australia for a fantastic Test tour, but no one is guaranteed a place in the squad," he added. "There are 15 places up for grabs in the team. They have done well in the Six Nations, but they must now continue improving as players."
Jones intends to take "32 or 33" players to face the Wallabies, declaring that he is still on the lookout for "new guys to come in and liven up the squad" between now and the end of May.
He is relishing the months ahead and says that friends back home are taking a keen interest in England's progress.
"I've had some texts and e-mails from back in Australia that have been, let's say, quite interesting, but seriously, people there are happy that England are doing well again and heading in the right direction," he said. "World rugby is better off for having a strong England team."
"The one thing I do know is Australia go into every contest expecting to win," Jones said. "So I expect the same with this England team."
Jones intends to retain the help of Jonny Wilkinson as kicking coach, meaning that the man whose drop-goal won England the 2003 World Cup could be persuaded to accompany the squad on the plane to Australia.
Comments will be moderated. Keep comments relevant to the article. Remarks containing abusive and obscene language, personal attacks of any kind or promotion will be removed and the user banned. Final decision will be at the discretion of the Taipei Times.