Cuba baseball in disarray on eve of Obama's visit
When US President Barack Obama watches the Tampa Bay Rays play Cuba's national team, it will come at the deepest moment of crisis in more than 50 years for the island's famed state-run baseball league.
A flood of high-profile defections to the US has gutted the country's teams. Stadiums and fields are run down, and experts and fans say quality of play is too. The national team has not won a major international tournament in nearly a decade.
"It's going through a bad period," Cuban baseball historian Ismael Sene said.
The Tampa Bay Rays' Rene Rivera, right, talks with Diego Lopez, 9, at the Estadio Latinoamericano in Havana on Monday.
Photo: Will Vragovic/The Tampa Bay Times via AP
Now authorities are considering once-unimaginable changes to save the socialist country's national game — reforms partly prompted by Obama's detente.
MLB is in talks with both nations' governments on a potential deal that could make it easier for Cuban ballplayers to play in the US without having to sneak away at international tournaments or risk high-seas defections with human smugglers.
Last week, the Obama administration implemented a policy to let Cubans earn salaries in the US as long as they do not pay special taxes back home. Those regulations specifically mention athletes, along with artists and performers.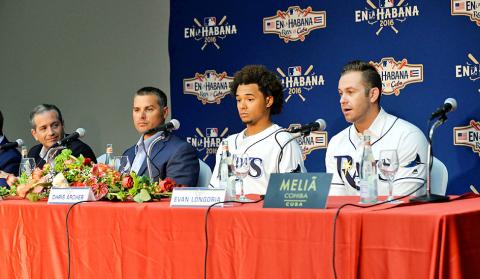 From left, Tampa Bay rays owner Stuart Stembert, manager Kevin Cash and players Chris Archer and Evan Longoria attend a news conference before their baseball friendly against the Cuban national team in Havana on Monday.
Photo: EPA
Victor Mesa, a retired Cuban baseball legend who is managing the team facing the Rays, said he has dreamed of a day when Cuban players could compete in the US without abandoning their homeland.
"They could go work there, they would give us work permits, the money can be brought back to Cuba — that is what we want, for our baseball players to be able to play there," Mesa said.
One key sticking point is that, while Cuba now allows some players to compete in foreign leagues, they are legally on loan from the Cuban Baseball Federation, which takes a cut of their salaries. Paying money directly to the Cuban government would violate the US embargo under its current form.
Yulieski Gourriel became the first big star to go overseas in the prime of his career with the island's full blessing, in 2014. He made US$1 million in Japan with the Yokohama Dena Baystars and paid 10 percent of that to the federation — a huge payoff for a country where take-home salaries for Cubans average about US$25 per month.
However, last season he ended up back in Cuba after the club canceled his contract.
Then last month he and younger brother Lourdes — also considered a promising prospect — slipped out of their hotel at the Caribbean Series in the Dominican Republic, joining the likes of Yasiel Puig and Yoenis Cespedes in a string of high-profile defections.
Photographs posted on Twitter early this month showed Gourriel at the Miami airport.
At the time he left, Gourriel was batting about .500 for Havana's powerhouse club Industriales and was on pace to shatter multiple hitting records. Some of that was surely skewed by a decline in local pitching, but Gourriel is widely considered to be the finest Cuban player of his generation.
"That was a symbolic blow," said Peter Bjarkman, author of the forthcoming book Cuba's Baseball Defectors: The Inside Story.
Bjarkman interpreted it as a sign that no MLB deal was imminent, because otherwise Gourriel probably would have stayed: "Running out of time as he was [at age 31], he felt he had to go now or never."
Another problem is that Cuba plays in the winter. That means players who also compete in Japan or elsewhere get precious little off-season. Senior players like Gourriel would risk exhaustion and potentially serious injury.
Sene said authorities are already talking of shifting to a May-September league that would operate without players who sign with the majors. A second, six-team league could run from October to December when they would be available to play back home after the US season ends.
"I hope that can happen," Sene said. "For me, it is the solution to the general quality" of play in Cuba.
It would likely be necessary, because MLB clubs that pay millions of dollars in salaries will aggressively defend their investment.
"The White Sox are not going to release [Jose] Abreu in the middle of a pennant race to go play for Cuba," Bjarkman said.
Cuban baseball insiders said many players are genuinely torn between loyalty to the Cuban system that nurtured their talent and the dream of competing against the best.
However, MLB salaries are a powerful lure. In recent years, signings have netted whopping deals for Cubans like Rusney Castillo (US$72.5 million, Red Sox) and Abreu (US$68 million, White Sox).
"Every baseball player would like to test himself in that league," said Livan Moinelo, a left-handed pitcher for Pinar del Rio. "Big possibilities are opening for Cuban ballplayers to play in the major leagues, and we hope it turns out for the best."
Meanwhile, many Cuban kids today are taking up soccer instead of baseball, and idolizing stars like Lionel Messi and Cristiano Ronaldo. While a single ball is all it takes for 22 kids to play soccer, gloves, bats and other baseball equipment are expensive and scarce.
The last time Cuba's national team won an international tournament was in 2007 at the Pan American Games, although Pinar del Rio last year did take first at the Caribbean Series, a club competition.
Cuba sent what was considered a strong squad to the 2013 World Baseball Classic, but it crashed out before the semi-finals. Since then, at least seven key players from that team have defected.
Bjarkman said the lack of success has prompted even more to leave. While Cuba was winning tournaments, the athletes were treated like rock stars back home. However, these days, fans are more interested in the exploits of the Cubans in the major leagues than those still here.
"They're second fiddle to the guys who left. It's taken away one more reason for staying home and staying in the system," Bjarkman said. "They're not the real heroes anymore. The heroes are the ones who left."
Comments will be moderated. Keep comments relevant to the article. Remarks containing abusive and obscene language, personal attacks of any kind or promotion will be removed and the user banned. Final decision will be at the discretion of the Taipei Times.