Graf tips Serena to break major record 'soon'
Steffi Graf said Serena Williams is likely to race past her Open-era record of 22 major singles titles, adding that she would be happy for the American if it happens.
Williams, who has won 21 Grand Slam singles events, was halted in her bid to tie the long-standing mark at the Australian Open in January when she was upset in the final by Graf's fellow German Angelique Kerber.
However, Graf expects Williams to come roaring back this year.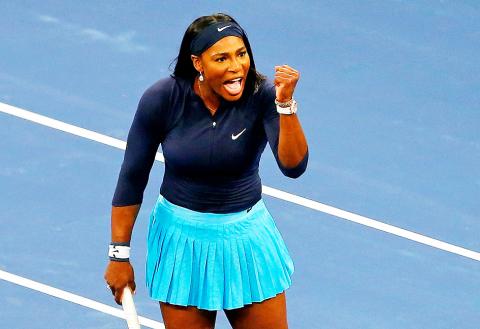 Serena Williams of the US reacts during her match against Caroline Wozniacki of Denmark at the BNP Paribas Showdown at Madison Square Garden in New York on Tuesday.
Photo: AFP
"I am very sure that she will [break the record]," Graf said "To be honest, I think we all believe that she can and that she will soon."
The 46-year-old, who dominated women's tennis from the late 1980s until the end of the 1990s, said that there would be no lingering disappointment at being overtaken by Williams.
"Have I accepted it? I gave everything to tennis and I feel great about what I have achieved," said Graf, now a mother of two, living with her husband, Andre Agassi, and their two children in Las Vegas. "I follow it somewhat, but this is somebody else's chance and I am happy for them. It does not take anything away from what I have achieved. I am completely at ease."
Graf completed a memorable calendar-year Grand Slam in 1988, capturing all four major titles and a gold medal at the Seoul Olympics.
However, Graf credited Williams for revolutionizing women's tennis with her agility and brute strength.
"Her serve is just the biggest stroke ever in women's tennis," said Graf, who split her only two meetings against Williams at the end of her career in 1999. "There is nothing that has ever been close to that kind of power. And just to see her athleticism — nobody has ever shown that in the sport. Hopefully it is going to bring a lot of other players out who have that kind of power and can make the breakthrough."
Graf said she does not fear that the power-hitters would put the shot-makers out of business.
"I see Simona Halep, who does not quite have that physical strength, but still shows incredible tennis," Graf said. "When you look at Angelique Kerber, she is not physically such a force either, but they use the court and they use different shots, so I think [finesse] is still out there."
"Obviously, you have different equipment nowadays to what we used to use. It constantly changes and that is the way the sport should be," she added.
Graf, visiting Tokyo to promote a junior tournament run by Roland Garros, declined to comment on a failed drugs test by Maria Sharapova. Williams has praised the "courage" of the Russian, who could be facing a lengthy ban.
However, Graf did tip Kerber for more Grand Slam success after her Melbourne triumph.
"I have watched and followed her. I have practiced with her over the years a little bit," Graf said. "I was pretty aware of the talent and her capabilities. She was pushing for many years and I always felt like the confidence held her back a little bit, but I felt like she was on the right track, like it was a matter of time."
"I think she can add to this, because she is very comfortable on all surfaces. Right now, all she has to do is stay with it and just believe she can do it. I think that is what the Australian Open win is going to do for her — just to believe more and more, and she will see even more results," she added.
Comments will be moderated. Keep comments relevant to the article. Remarks containing abusive and obscene language, personal attacks of any kind or promotion will be removed and the user banned. Final decision will be at the discretion of the Taipei Times.