McCullum smashes Test century record
'AMAZING STRIKING': The 34-year-old also set a record for total Test sixes to help New Zealand establish a firm first-innings total of 370 in their Test against Australia
Brendon McCullum yesterday belted the fastest century the world has seen as he thrashed Australia's bowling in a landmark innings to celebrate his final Test. At the end of his explosive 145-run innings, the popular New Zealand captain felt a mixture of pride in what he had achieved and embarrassment at breaking a record set by his childhood hero Viv Richards.
With a stream of sixes and fours, McCullum brought up his 100 in just 54 deliveries, two fewer than the previous record of 56 achieved by West Indies' great Richards 30 years ago and Pakistan's Misbah-ul-Haq in 2014.
With New Zealand fighting to save the series after losing the first Test, McCullum's aggression had set his side up for a first innings 370 and Australia were 57-1 at the end of the first day.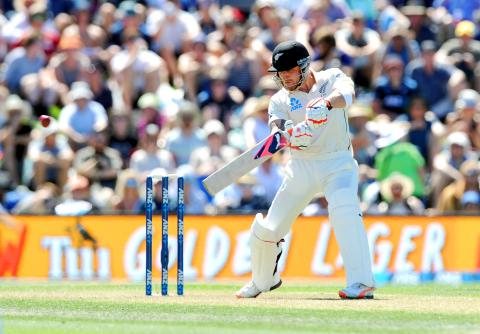 New Zealand's Brendon McCullum cuts to the boundary on the first day of the second Test against Australia at Hagley park oval in Christchurch, New Zealand, yesterday.
Photo: AP
The 34-year-old, who retires from international cricket at the end of this Test, said that when he went to the middle on a seaming wicket, with New Zealand in trouble at 32-3, he felt attack would be the best form of defense.
And he knew early on that luck was on his side.
"Probably second ball when I had an almighty, filthy slog and sort of managed to go over the slips cordon for four," he said.
"When you're confronted with wickets like that and you know you're going to have to be pretty aggressive, you need some luck along the way," he added.
When he was joined by the equally belligerent Corey Anderson (72), they put on 179 runs in 110 deliveries.
"It was great fun and it was also instrumental in us being able to, hopefully, set the Test match up for us," McCullum said.
When he charged down the wicket and sliced Josh Hazlewood for four to bring up his century, McCullum had no idea it was a record performance and after he found out he was slightly uncomfortable at removing Richard's name from the record books.
"He was my idol growing up. I'm almost embarrassed to go past him, to be honest, but hopefully he enjoyed a little bit of the stroke making," McCullum said.
There were 21 fours and four sixes in McCullum's innings, with the first six setting a new world record for total Test sixes, overtaking Australian Adam Gilchrist, who hit 100.
As McCullum pounded the boundaries, the Australian bowlers could only fire the ball down and hope, but when they finally claimed the wicket there was nothing, but praise.
"It was pretty amazing striking," spinner Nathan Lyon said.
"He's been a credit to the game of cricket the way he's conducted himself for New Zealand for a long period of time and to see him come out there and do that was pretty amazing," he said.
"He rode his luck and that's the way he's played cricket and I'm sure that's the way he will want to go down at the end of his career — as a person who took the game one," Lyon added.
There was one element of luck in McCullum's audacious display when he was on 39 and Mitchell Marsh pulled off a spectacular catch, only for the wicket to be disallowed after the James Pattinson delivery was ruled a no ball.
McCullum said that let-off inspired him to attack the bowling even harder.
"It was fortunate for the reprieve, so it loosened me up a bit, just relaxes you a little bit more, because you're probably not meant to be out there so you play with a little bit more freedom," he said.
Asked what his approach would be in the second innings, which is to be his final appearance after 101 Tests, McCullum had a succinct answer: "Swing hard."
Comments will be moderated. Keep comments relevant to the article. Remarks containing abusive and obscene language, personal attacks of any kind or promotion will be removed and the user banned. Final decision will be at the discretion of the Taipei Times.