Crimson Tide tame Tigers in thriller
WATSON WOWS: Clemson's quarterback completed 30-of-47 passes for 405 yards and four touchdowns, and ran 20 times for 73 yards, but his team still lost
Alabama won a fourth national title in seven years with a thrilling 45-40 victory over Clemson on Monday, with a victory built on a quartet of long-range scoring plays and the recovery of an onside kick in the fourth quarter.
Heisman Trophy-winning running back Derrick Henry sealed the outcome with a one-yard touchdown run with 1 minute, 7 seconds remaining, stretching Alabama's lead to 45-33.
The Tigers battled to the end in a wild fourth quarter that featured a combined 40 points.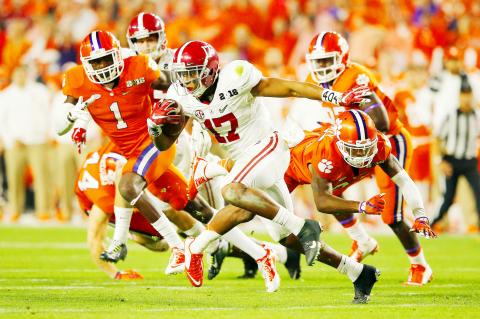 The Alabama Crimson Tide's Kenyan Drake, center, runs with the ball against the Clemson Tigers in their US college football national championship game at the University of Phoenix Stadium in Glendale, Arizona, on Monday.
Photo: AFP
Quarterback Deshaun Watson's 24-yard touchdown pass to tight end Jordan Leggett with 12 seconds remaining brought Clemson within a score, but the ensuing onside kick went out of bounds.
Alabama tight end O.J. Howard had five catches for 208 yards and two touchdowns. Henry ran 36 times for 158 yards and three touchdowns, including a 50-yard burst to start the scoring.
He was not able to get free much in the second half, but quarterback Jake Coker connected on scoring passes of 53 and 51 yards to Howard after the break. Coker finished 16-for-25 for 335 yards.
Alabama's fireworks on offense were enough to offset a brilliant effort from Watson, who dazzled with his arm, his legs and dizzying improvisation skills.
He completed 30-of-47 passes for 405 yards and four touchdowns, and he ran 20 times for 73 yards.
After several big-bowl blowouts, Alabama and Clemson put a whopper of the topper on the college football season in front of 75,765 at University of Phoenix Stadium.
Howard's second score came after defensive back Marlon Humphrey recovered a high-bouncing onside kick toward the right sideline.
After a 33-yard Alabama field goal tied the game at 24-24, Humphrey caught the ball cleanly at the 50-yard line.
"We call it pop kick," Alabama coach Nick Saban told reporters. "I thought we had it in the game anytime we wanted to do it. I made the decision to do it. The score was tied... and we were tired on defense. We were not doing a great job of getting them stopped."
"I felt like if we did not do something to change the momentum of the game, that we would not have a chance to win it," he added.
Alabama, who lost in last season's playoff semi-finals, were not done exerting its special teams superiority.
Clemson used a 31-yard field goal to get within 31-27, but Alabama kick returner Kenyan Drake carved through the coverage on the ensuing kickoff, taking it 95 yards and stretching out the ball to hit the pylon for a touchdown with 7 minutes, 31 seconds left.
"I think special teams may have been the difference in the game," Saban said. "The onside kick and the kick return for the touchdown kind of changed the momentum of the game."
"I have never been prouder of a group of young guys," he added.
The Tigers had claimed 51 consecutive wins when leading after three quarters, but could not hold on against Alabama after taking a 24-21 lead into the final period.
Saban won his fourth national title at Alabama and fifth overall.
Only former Crimson Tide coach Bear Bryant (six) has won more than four national titles during the wire-service era (since 1936).
Comments will be moderated. Keep comments relevant to the article. Remarks containing abusive and obscene language, personal attacks of any kind or promotion will be removed and the user banned. Final decision will be at the discretion of the Taipei Times.