Australian rules rocked by WADA bans
Thirty-four past and present players from Australian rules team the Essendon Bombers, one of the nation's richest and most storied Australian rules clubs, were yesterday issued two-year bans for doping in a ruling that stunned the sports-mad nation.
The Australian Court of Arbitration for Sport upheld an appeal brought by the World Anti-Doping Agency (WADA) against a decision in March that cleared the players of taking a banned supplement during the Australian Football League's (AFL) 2012 championship season.
"The 34 players concerned are sanctioned with a period of ineligibility of two years, commencing on 31 March 2015, with credit given for any individual period of ineligibility already served," the court said in a statement. "Thus, most of the suspensions will come to an end in November 2016."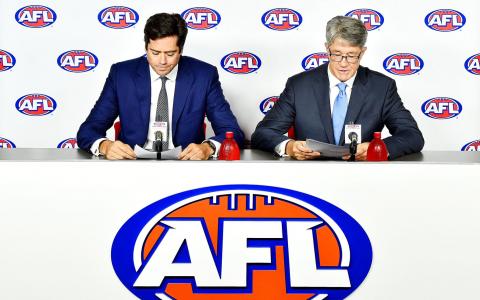 Australian Football League CEO Gillon McLachlan, left, and chairman Mike Fitzpatrick speak at a press conference at AFL House in Melbourne, Australia, yesterday.
Photo: EPA
The decision leaves Melbourne-based Essendon without 12 of their listed players and effectively hobbled for the entire season of AFL this year, a game supported religiously in the nation's southern states.
Five of the 34 play for four other clubs, with the remaining 17 no longer active in the 18-team top-flight competition.
Australia's biggest doping scandal in domestic sport, Essendon were heavily sanctioned by the AFL in 2013 after a joint investigation with the national anti-doping authority uncovered an organized and highly dubious regime of supplement injections given to players.
The club, whose local standing can be likened to the Green Bay Packers in American football, were fined A$2 million (US$1.4 million), kicked out of the 2013 playoffs and had their coach James Hird suspended for a year for bringing the game into disrepute.
However, in March last year, the AFL's anti-doping tribunal found the players not guilty of taking Thymosin beta-4, a banned supplement believed to aid in tissue repair and regeneration, citing a lack of evidence.
The Australian Sports Anti-Doping Authority (ASADA) did not to appeal the decision and handed the case over to WADA, a move that angered local pundits, who accused the national body of trying to prolong a witch-hunt.
"This unfortunate episode has chronicled the most devastating self-inflicted injury by a sporting club in Australian history," ASADA boss Ben McDevitt said in a statement yesterday.
"The players had received anti-doping education through the AFL and ASADA and were well aware that they are personally responsible for all substances that entered their body," McDevitt said. "Unfortunately, despite their education, they agreed to be injected with a number of substances they had little knowledge of, made no inquiries about the substance and kept the injections from their team doctor and ASADA."
WADA applauded the decision, saying in a statement that it was "justice" for clean athletes.
AFL CEO Gillon McLachlan said his body accepted the decision, but was surprised by its severity.
He told reporters in Melbourne that Essendon would be afforded special concessions to recruit replacement players and "get through this extraordinarily difficult period."
He also confirmed that the Brownlow Medal won by Essendon captain Jobe Watson in 2012, the game's annual most valuable player award, would be reviewed.
The decision nonetheless ignited a firestorm in mainstream and social media, with furious players and pundits condemning a process that started with the launch of the probe in early 2013 and overshadowed the game for three seasons.
Essendon chairman Lindsay Tanner told reporters the ruling was "manifestly unfair" for the players, but also apologized on behalf of the club for "serious mistakes" made in 2012.
"This is a miscarriage of justice for 34 young men," former coach Hird said in a statement.
AFL players association boss Paul Marsh said the league should consider splitting from WADA, a suggestion McLachlan quickly dismissed.
The Essendon probe was made public on Feb. 5, 2013, two days after an Australian government report alleged widespread doping in the country's top sports leagues.
The report's release was dubbed the "blackest day in Australian sport."
The probe that followed also found wrongdoing in Australia's top-flight rugby league competition.
In August last year, 12 Cronulla Sharks players in the National Rugby League accepted one-year suspensions from ASADA for taking proscribed supplements. Their bans were contentiously backdated to Nov. 2013, ensuring that most of them would only miss a handful of championship games.
Stephen Dank, a controversial sports scientist who worked with both Essendon and Cronulla, was banned for life by the AFL last year for his involvement in the supplements program.
Comments will be moderated. Keep comments relevant to the article. Remarks containing abusive and obscene language, personal attacks of any kind or promotion will be removed and the user banned. Final decision will be at the discretion of the Taipei Times.