Paraguay prosecutors raid CONMEBOL headquarters
Paraguayan state prosecutors on Thursday raided the headquarters of South American soccer confederation CONMEBOL after a request for cooperation from US justice officials probing corruption inside world soccer, the prosecution office said.
CONMEBOL lawyer Cristobal Caceres said the raid was linked to the case pending in the US against former long-time confederation president Nicolas Leoz, who was indicted for corruption and is facing extradition.
The raid sought documents detailing "business concessions and broadcasting rights for sporting events," the prosecutors' office said in a statement.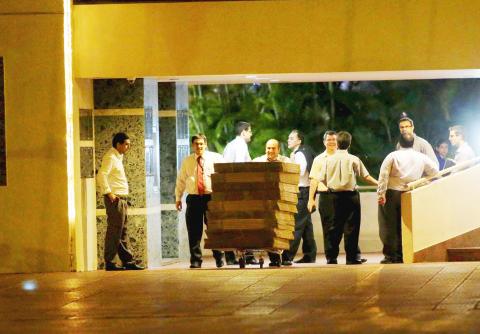 Paraguayan state prosecutors prepare a stack of boxes to remove material from the headquarters of South American soccer confederation CONMEBOL in Luque, Paraguay, on Thursday.
Photo: Reuters
It was led by two prosecutors who specialize in money laundering and financial crimes.
US indictments against 41 defendants, including senior soccer officials from South and Central America, include schemes that involved hundreds of millions of US dollars in bribes and kickbacks sought for marketing and TV rights to tournaments and matches.
"We are providing the documents that are being asked for," Caceres said, adding that "some of the documents pertaining to doctor Leoz are not here."
The headquarters building is on the outskirts of Paraguay's capital, Asuncion, where Leoz, 87, has been under house arrest since May last year, after being indicted.
Two other soccer bosses, a former president of Honduras and a former head of CONMEBOL, last month pleaded not guilty to US charges they took bribes in exchange for media and marketing contracts.
Former Honduran president Rafael Callejas, who was in office from 1990 to 1994 and later became president of its soccer federation, and Paraguayan former head of CONMEBOL Juan Angel Napout traveled to the US voluntarily after their indictment was unsealed on Dec. 3 last year.
They are among 41 people and entities charged in a US corruption sweep that has sent soccer's world governing body, FIFA, into an unprecedented crisis.
Napout is charged with soliciting bribe payments from two sports marketing firms to secure his support for awarding commercial rights to soccer tournaments, including the popular Copa Libertadores.
In parallel investigations, Swiss and US authorities are focusing on whether business contracts and the World Cup hosting rights for 2018 in Russia and 2022 in Qatar were won with the help of bribery.
Comments will be moderated. Keep comments relevant to the article. Remarks containing abusive and obscene language, personal attacks of any kind or promotion will be removed and the user banned. Final decision will be at the discretion of the Taipei Times.