Deron Williams' double OT buzzer-beater edges Kings
LOP-SIDED RIVALRY: The 117-116 win was the Mavericks' 22nd straight at home over the Kings. In Los Angeles, Stephen Curry suffered another injury to his left leg
Deron Williams hit a three-pointer at the buzzer in second overtime as the Dallas Mavericks beat Sacramento 117-116 on Tuesday night for their 22nd consecutive home victory over the Kings.
Williams took an inbounds pass from Devin Harris with 2.3 seconds left and pump-faked to get Rudy Gay to fly by him in the left corner, and the ball went in after the buzzer sounded.
Dirk Nowitzki hit an earlier three as the Mavericks scored the last eight points after falling behind 116-109 with 1 minute, 20 seconds left in the second overtime.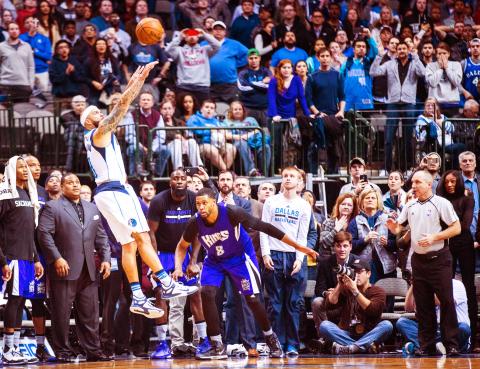 Dallas Mavericks guard Deron Williams shoots a threre-pointer in the final second of second overtime in their NBA game against the Sacramento Kings on Tuesday in Dallas, Texas.
Photo: Ashley Landis / The Dallas Morning News via AP
DeMarcus Cousins scored 35 for his third straight 30-point game for the Kings, including a buzzer-beating layup for a 98-all tie at the end of regulation.
Former Dallas guard Rajon Rondo was out with back spasms in his first visit since an acrimonious split after an ill-fated half-season with the Mavericks.
The Kings have not won a regular-season game in Dallas since Feb. 27, 2003. Sacramento did win a game in Dallas during a five-game playoff series victory over the Mavericks in 2004.
BULLS 117, BUCKS 106
In Chicago, Jimmy Butler had 32 points and a season-high 10 assists to lead Chicago over Milwaukee for their season-best fifth straight win.
Pau Gasol scored 26 points with 11 rebounds, while Taj Gibson added 11 points and 14 boards as the Bulls led the entire way.
Derrick Rose returned to the Bulls after missing three straight games with a sore right hamstring. He showed no effects of the injury and finished with 16 points.
Khris Middleton scored 26 for Milwaukee, while Michael Carter-Williams had 20 points and 12 assists.
KNICKS 107, HAWKS 101
In Atlanta, Georgia, Arron Afflalo and Carmelo Anthony both scored 23 points, but New York almost lost a 16-point lead before holding off Atlanta to give the Knicks their second win over the Hawks in three days.
The Knicks led by 16 in the third quarter, but saw the lead reduced to two points in the final minute, before Jose Calderon scored on a drive with 18 seconds remaining.
Kristaps Porzingis had 17 points and 11 rebounds for New York. Anthony finished with 11 rebounds and seven assists.
Paul Millsap led Atlanta with 19 points.
WARRIORS 109, LAKERS 88
In Los Angeles, Klay Thompson scored 22 of his 36 points in the first quarter, while Stephen Curry added 17 before sitting out the fourth to rest his ailing leg in Golden State's victory over the Los Angeles Lakers.
Kobe Bryant sat out his third straight game with a sore right shoulder for the Lakers, whose three-game winning streak ended in Golden State's 33rd win in 35 games.
Curry stayed in the game after taking a blow on his left leg in the third period, but briefly limped with obvious frustration on his face.
The reigning Most Valuable Player missed two games with a bruised lower left leg last week before returning for Golden State's last two games.
Curry went to the locker room before the fourth.
Comments will be moderated. Keep comments relevant to the article. Remarks containing abusive and obscene language, personal attacks of any kind or promotion will be removed and the user banned. Final decision will be at the discretion of the Taipei Times.