Vera defeats dark horse 'Typhoon' Cheng for title
Taiwanese-Canadian Paul "The Typhoon" Cheng's unexpected shot at title contention ended as suddenly as it began, as former UFC star Brandon Vera knocked him out in the first round to claim ONE Championship's inaugural heavyweight title in Metro Manila on Friday night.
Cheng had taken the fight on only 72 hours' notice, after the organization pulled Britain's Chi Lewis-Parry from the fight, saying he had failed to submit his drug and medical tests or board his flight.
Vera, who had fought most of his career at light heavyweight (93kg), had been expected to give up a significant size advantage to Cheng, but came in at likely a career-high 112.3kg, only slightly below Cheng's 113.4kg, in preparation for the 2.06m Lewis-Parry.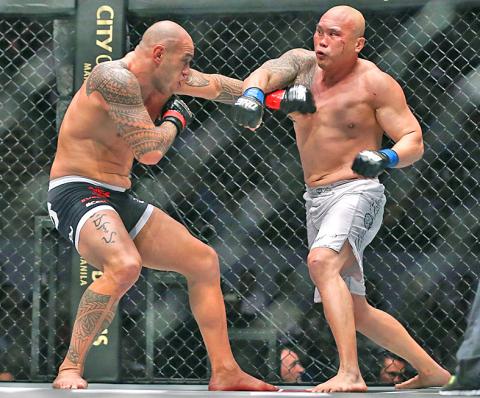 Taiwanese-Canadian Paul "The Typhoon" Cheng, right, trades blows with the Philippines' Brandon Vera in their heavyweight ONE Championship bout in Pasay, Metro Manila, Philippines, on Friday.
Photo: EPA
Both fighters wasted little time engaging, exchanging kicks from the opening bell.
Cheng landed a solid knee to Vera's body from the clinch, which Vera answered with hard kicks to Cheng's legs.
Cheng threw a lead right and left hook combination, which Vera evaded and countered with a short left hook that dropped Cheng. Cheng quickly made his feet, but Vera immediately followed with a devastating head kick that knocked the Taiwanese to the canvas again and a series of hammer-fist strikes to force referee Yuji Shimada to stop the fight 26 seconds into the round.
The win gave perennial contender Vera his first title and improved his record to 14-7-0, while Cheng fell to 5-2-0.
The bout was overshadowed by the death of Chinese fighter Yang Jianbing, 21, who had been scheduled to fight Geje Eustaquio on the undercard. Yang was rushed to hospital before the weigh-in on Thursday night after suffering severe dehydration and possible heat stroke while trying to cut weight.
No official cause of death has been announced, but mixed martial arts news Web site dojodrifter.com reported that hospital medical staff had told them Yang had died of rhabdomyolysis, a condition in which muscle fiber breaks down and enters the bloodstream, which can cause kidney damage. The condition can occur as a result of severe dehydration, extremes of body temperature and severe exertion.
Yang's death was announced only hours before the event and a minute of silence was observed to honor him.
On the undercard, Reece McLaren, a late replacement for Jordan Lucas, upset Mark Striegl with a third-round rear naked choke, while fighting siblings Angela and Christian Lee both posted stoppage wins.
Comments will be moderated. Keep comments relevant to the article. Remarks containing abusive and obscene language, personal attacks of any kind or promotion will be removed and the user banned. Final decision will be at the discretion of the Taipei Times.