Weise on fire as Canadiens upset Islanders
Dale Weise has never been so hot, all least in the NHL.
The Montreal winger scored his eighth goal of the season and the Canadiens got a 4-1 victory over the New York Islanders on Thursday night.
Weise was only ever known as a scoring star when he had 48 points in 19 games in the Netherlands during the 2011-2012 lockout — there, he earned the nickname "Dutch Gretzky."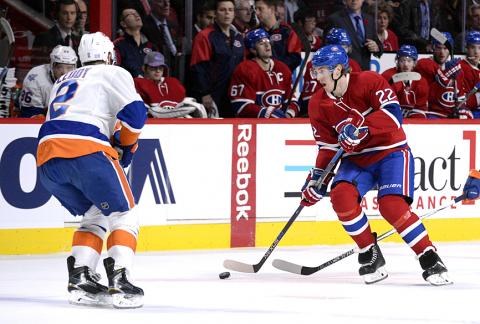 Montreal's Dale Weise, right, plays the puck as New York's Nick Leddy defends during their game at the Bell Centre in Montreal, Quebec, on Thursday.
Photo: Eric Bolte, USA TODAY Sports
Now, the 27-year-old has taken over the team lead in goals, only two short of his career high of 10 set last season, with five in the past four games.
"I don't really pay attention to individual stats," Weise said. "I'm just glad our line is playing well and contributing the way we are. We're scoring some big goals for our team."
Weise and linemates David Desharnais and Tomas Fleischmann each have six points in the past four games.
Desharnais and Brendan Gallagher scored 1 minute, 33 seconds apart in the third period and Tomas Plekanec added an empty-net goal for Montreal. The Canadiens are 3-0-1 since Mike Condon replaced injured Carey Price as the starting goaltender and 12-2-1 overall.
Kyle Okposo scored and the Islanders lost for the fourth time in five games, including two overtime defeats. Isles captain John Tavares returned from missing three games with an illness and had a few chances, including missing an open net from the doorstep, but was kept off the scoresheet.
A tight-checking game turned on a lucky break at 6:22 of the third period when a puck went off linesman Michel Cormier and set up a two-on-one. Fleischmann then fed Desharnais for the go-ahead goal.
"Obviously they got a break there," Okposo said. "We hadn't given them a lot offensively. They didn't have much going. It was a kind of a ping-pong match, but they got a break when they needed it."
Montreal had a 24-18 shot advantage and beat former Canadiens goaltender Jaroslav Halak for only the second time in six meetings.
The Canadiens have not skipped a beat since Price suffered an undisclosed injury last week in Edmonton. Condon, a 25-year-old rookie from Needham, Massachusetts, has allowed nine goals in six games. He is 5-0-1 with a 1.50 goals-against average and a .941 save percentage.
In other NHL action, it was:
Washington 4, Boston 1; Ottawa 3, Winnipeg 2 (SO); Tampa Bay, 4 Buffalo 1; Nashville 3, Minnesota 2; Calgary 2, Philadelphia 1 (OT); Arizona 4, Colorado 2.
Comments will be moderated. Keep comments relevant to the article. Remarks containing abusive and obscene language, personal attacks of any kind or promotion will be removed and the user banned. Final decision will be at the discretion of the Taipei Times.