Attacks show tide of fan racism in Ukraine
Instead of being one of the biggest sports events of the year in troubled Ukraine, Dynamo Kiev's game against Chelsea in the Champions League turned into a public display of the country's struggle to contain violent racists.
Echoing past decades of European soccer violence, at least eight people were brutally beaten at the game, including a 21-year-old African student.
While clashes between rival fans are comparatively common at Ukrainian league games, racist attacks on such a large scale are rare. This comes at a time when the country's small black population is under pressure.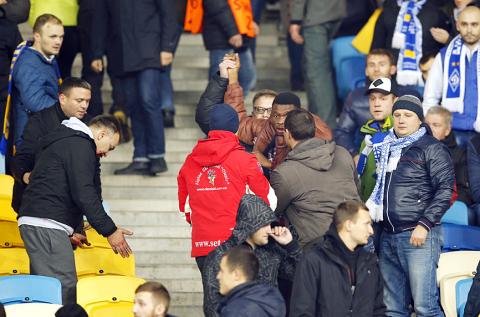 Fans look on after being attacked in the crowd during the Champions League game between Dynamo Kiev and Chelsea on Oct. 20 in Kiev, Ukraine.
Photo: Reuters
"Around the 25th minute, I started to take photographs on my phone," the student said. "When I picked up the phone to look at the photographs I'd taken, I was hit. I fell down some stairs and felt almost as if I had lost consciousness."
The Congolese student, who asked not to be identified for fear of reprisals, spent almost a week in hospital with a head wound and injuries to his nose which required surgery.
A keen soccer fan who attended games in his previous home in a provincial Ukrainian city, he now says he cannot face going to the stadium again.
"For me, if I go to a game another time, it would be as if I didn't get the hint," he said.
UEFA sent its security head Mark Timmer to Kiev on Monday, where he criticized Ukrainian officials over the behavior of security personnel at the game and the federation's outdated safety procedures, according to an account of the meeting posted by the Ukrainian Football Federation, whose executive director Volodymyr Heninson said the case was Ukrainian soccer's "last yellow card" before serious sanctions.
It is far from Ukraine's first case of soccer racism. In March, UEFA punished Dynamo with a fine and partial stadium closure over racist fan behavior in a game against Everton, while FIFA punished the Ukrainian national team in 2013 over racist chanting at a World Cup qualifier against San Marino.
When Ukraine hosted the 2012 European championship with Poland, fears of racist attacks largely failed to materialize, but now, with Ukraine in political and economic turmoil, far-right hooligan groups are gaining prominence.
Over the course of about 15 minutes in the first half of Dynamo Kiev's Champions League game against Chelsea on Oct. 20, hooligans launched a wave of attacks in one corner of the Olympic stadium.
Most of the victims were black, while three were white, some attacked after trying to protect black victims. There is no evidence that the victims had been supporting Chelsea.
Their attackers hunted in packs, sending some members around to cut off their victims' escape route, said Mykhaylo Smolovoy, a Ukrainian fan who witnessed the attacks.
"It reminded me of when you watch Discovery sometimes, or National Geographic, and tigers are chasing a gazelle," he said.
During one beating, he said he heard shouts of "white power."
In one incident, captured on video by Ukrainian TV, a group of about five young men appear to launch a vicious beating on an unidentified white man, one stabbing repeatedly downward with a wooden crutch. As this goes on, one of the attackers spots a young black man several rows away and leaves the fray to chase after him.
Anti-discrimination group Fare, which sends observers to monitor racism at major European games, captured video of four black men being chased through the crowd. They try to escape, but some are caught and beaten, as are white men who try to assist them. Stadium security does not intervene.
Such videos have become evidence in an investigation by European soccer's governing body, which could force Dynamo to play future home games in an empty stadium or deduct points from the team.
The club has been charged with fan racism and crowd disturbances, offenses which typically lead to a UEFA judgement within days, but in a rare step, UEFA appointed an inspector for a more detailed investigation.
Kiev police are carrying out a criminal inquiry into the stadium attacks under the criminal offense of hooliganism, which carries a penalty of up to four years in prison.
Comments will be moderated. Keep comments relevant to the article. Remarks containing abusive and obscene language, personal attacks of any kind or promotion will be removed and the user banned. Final decision will be at the discretion of the Taipei Times.