Raptors beat Mavericks, go 4-0
Kyle Lowry scored 27 points as the Toronto Raptors spoiled the home opener in Dallas, beating the Mavericks 102-91 on Tuesday for the first 4-0 start in club history.
The Raptors took the lead for good on a 12-0 run that started in the middle of the fourth quarter. Jonas Valanciunas had six of his 16 points during the decisive stretch.
The Mavericks went almost four minutes without a basket after Dirk Nowitzki hit a three-pointer for an 86-82 lead. Nowitzki finished with 18 points.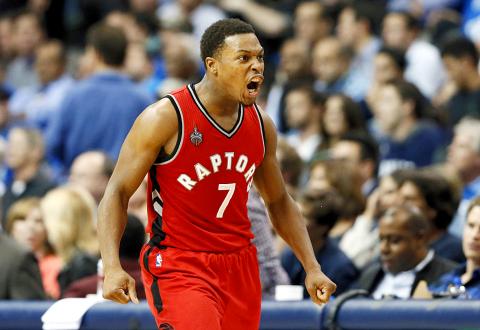 Toronto Raptors guard Kyle Lowry celebrates scoring a basket against the Dallas Mavericks late in the second half of their NBA game on Tuesday in Dallas, Texas.
Photo: AP
DeMar DeRozan scored 20 points, and Luis Scola had 19 points and 12 rebounds for the Raptors, who opened with three straight wins two other times in their first 20 seasons.
Lowry had a game-high 10 assists, and Toronto held Dallas to six-of-22 shooting in the fourth quarter and 38 percent for the game.
Deron Williams, who starred at a Dallas-area high school, had 13 points in his home debut for the Mavericks.
HAWKS 98, HEAT 92
In Miami, Jeff Teague had 26 points and nine assists, leading the Hawks to a road win.
Al Horford scored 17 points and Paul Millsap had 12 points and 10 rebounds for Atlanta, who have won four straight following a season-opening loss.
Hassan Whiteside finished with 23 points and 14 rebounds for Miami, doing so on 11-for-12 shooting. According to STATS, Whiteside was the third Heat center to shoot at least 11 for 12 and block four shots in a game, joining Alonzo Mourning and Shaquille O'Neal.
Dwyane Wade scored 21 points, despite spending a long stretch of the second half back in the Heat locker room after feeling a migraine start coming on. He took some medicine and returned in the fourth quarter.
NUGGETS 120, LAKERS 109
In Los Angeles, Kenneth Faried had 28 points and 15 rebounds, and Danilo Gallinari got 14 of his 21 points in the second half of Denver's victory over winless Los Angeles.
J.J. Hickson scored 17 points in the Nuggets' fifth consecutive win over the Lakers at Staples Center since November 2012. Faried dominated the low post, went 10 for 13 and hit all eight of his free throws in Denver's 10th win over Los Angeles in the past 11 meetings.
Jordan Clarkson matched his career high with 30 points, and Lou Williams added 14 of his 24 points in the fourth quarter for the Lakers, who started 0-4 for the second straight year.
Kobe Bryant had 11 points on four-of-11 shooting, doing little to end his slump.
GRIZZLIES 103, KINGS 89
In Sacramento, California, Zach Randolph had 20 points and 11 rebounds as Memphis bounced back from an embarrassing loss with a victory over Sacramento.
The Grizzlies were eager to rebound after a franchise-worst, 50-point loss Monday to the defending NBA champion Golden State Warriors.
The Grizzlies were outscored 72-27 in the middle two quarters and set a team low for shooting (27.1 percent).
In other NBA action, it was:
‧ Hornets 130, Bulls 105
‧ Magic 103, Pelicans 94
‧ Pacers 94, Pistons 82
Comments will be moderated. Keep comments relevant to the article. Remarks containing abusive and obscene language, personal attacks of any kind or promotion will be removed and the user banned. Final decision will be at the discretion of the Taipei Times.