Players' union calls for 'stringent' checks on FIFA
The international professional soccer players' union FIFPRO yesterday called for the "most stringent tests of integrity" to be applied to candidates for the presidency of scandal-tainted FIFA.
With the deadline for candidates looming on Monday, FIFPRO gave a clear indication that it believes only a candidate from outside FIFA can lead soccer's global governing body out of its current crisis.
With FIFA's outgoing president Sepp Blatter and the leading candidate to take over, Michel Platini, both now suspended, FIFPRO said: "There is no doubt the present mayhem has left FIFA morally bankrupt."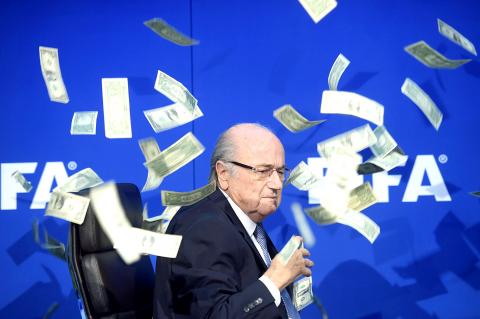 FIFA president Sepp Blatter reacts while banknotes thrown by British comedian Simon Brockin flutter through the air during a press conference at FIFA headquarters in Zurich, Switzerland, on July 20.
Photo: EPA
The union has already declared that it has "no confidence in FIFA's ability to reform from within."
"A clean break from the past is essential for FIFA to climb out of the toxic pit which continues to produce serious accusations of corrupt behavior on almost a daily basis," said a statement, which sets out the union's criteria for candidates.
The union said any replacement for Blatter elected on Feb. 26 would need experience to "drive reform" of a "politically complex global body," experience of governance and human rights, and understanding of football as a sport and business.
"Suffice to say, the future leader of FIFA has to be a proven reformer, an impeccable figure who passes the most stringent tests of integrity, carried out independently, possibly by more than one external body," FIFPRO said.
"Eliminating even the slightest perception of conflict of interest will be a critical part of a robust reform process, as opposed to the charade of self-regulation that has damaged the image of the world's most popular sport."
France soccer great Platini is suspended because of a Swiss criminal investigation into a US$2 million payment he received from FIFA in 2011.
He said he was still registered as a candidate for the presidency.
The other contenders who say they have officially registered with the backing of five national associations are Prince Ali bin al Hussein, a former FIFA vice president from Jordan, and Trinidad and Tobago captain David Nahkid.
Jerome Champagne, who previously served as FIFA director of international relations, said he filed papers to enter the election on Monday night.
Shaikh Salman bin Ebrahim al Khalifa, president of the Asian Football Confederation from Bahrain, is expected to announce he is running before Monday's deadline, while others could follow.
Comments will be moderated. Keep comments relevant to the article. Remarks containing abusive and obscene language, personal attacks of any kind or promotion will be removed and the user banned. Final decision will be at the discretion of the Taipei Times.