Habana stresses focus against Samoa
Mental focus must be much higher for South Africa as they anticipate a bruising clash with Samoa in their second Rugby World Cup Pool B match after their shock defeat to Japan, veteran winger Bryan Habana said on Tuesday.
"Our mental capacity and focus must be both on a higher level and much improved," he told reporters as the Springboks tried to pick themselves up after an embarrassing setback in which they lost 34-32 to Japan in the biggest upset in Rugby World Cup history.
"We have had a hard talk and a hard look at each other as individuals and where we stand," Habana said of the post-Japan match analysis. "We are trying to be as positive as possible after what was a rather depressing weekend."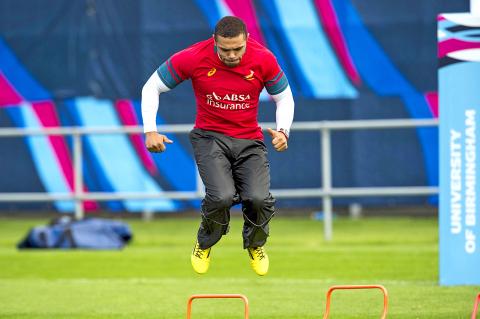 South Africa winger Bryan Habana goes through a training exercise during a team session at Birmingham University in England on Tuesday.
Photo: AFP
"It's about now bouncing back," he said. "We all realize how much we let everyone down, but there is still something special within in this squad and so we want to bounce back and install hope again. It will take small steps, but it starts on Saturday.
"Our past games against Samoa have always been physical and of a high intensity. From minute one to minute 80, we have to realize we'll be in a tough game," he said. "We must be prepared not only for ruck time, but collisions in defense and attack. They come and they keep on coming for 80 minutes."
"They pride themselves on their physical approach," he added. "These guys [Samoa] will probably take a lot of confidence out of what happened to us last Saturday, but I really do believe we can come out successfully on Saturday."
Habana said the Boks had vastly underestimated the Japan threat.
"As well coached as they were, we didn't fully understand what they would bring," he said.
"We didn't adapt quick enough. [Japan coach] Eddie [Jones] had a pretty simple plan, they disrupted us at the breakdown and not many of us have experienced being tackled below the knees the way we were on Saturday," Habana said.
"The lower-tier teams are going to be a lot more competitive for a lot longer in this tournament," he said.
"It was one of the toughest days for many of us in our rugby careers, but we can't change the past," Habana added.
Comments will be moderated. Keep comments relevant to the article. Remarks containing abusive and obscene language, personal attacks of any kind or promotion will be removed and the user banned. Final decision will be at the discretion of the Taipei Times.