Dafne Schippers edges Felix to win 200m
Dafne Schippers swept away any doubt she will be a gold medal contender at the Rio de Janeiro Olympics next year, crossing the finishing line at the Van Damme meet on Friday with one index finger held proudly in the air.
The Dutchwoman won a stirring 200m to highlight the final Diamond League event, with Olympic champion Allyson Felix grimacing to the extent that even her elegant stride deserted her.
"It makes me especially happy to beat someone like her," Schippers said.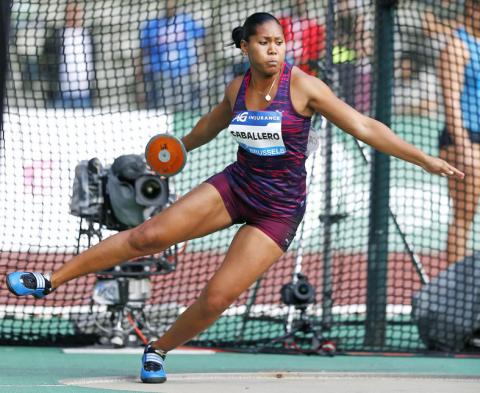 Cuba's Denia Caballero winds up to throw during the women's discus at the Diamond League meeting in Brussels, Belgium, on Friday. Caballero's best distance was 65.77m, second only to Sandra Perkovic of Croatia's 67.5m. Nadine Muller of Germany was third with 62.64m.
Photo: EPA
"There are few better. I feel delighted," she said.
Even though Schippers won the 200m at the Beijing World Championships two weeks ago, there remained a big question as to who was the fastest over the distance since Felix skipped the half lap because of a scheduling problem and won the 400m instead.
The duel in front of 40,000 fans at the King Baudouin Stadium delivered right away. Felix had the better start and turned into the finishing straight with a slight advantage.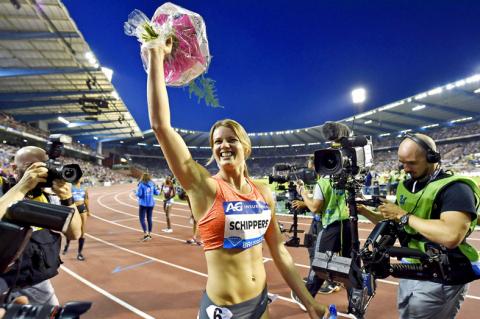 Dafne Schippers of the Netherlands celebrates her win in the women's 200m at the Diamond League meeting in Brussels on Friday.
Photo: Reuters
The former heptathlete turned full-time sprinter turned on the turbos as Schippers swept past the American veteran and even had time to lift one arm in victory as she crossed the line.
Felix was the last big sprinter she still had to beat.
"That feels extra great," Schippers said.
The times on a chilly night were disappointing, with Schippers crossing in 22.12 seconds, beating Felix by a one-10th of a second. Elaine Thompson of Jamaica, silver medalist in Beijing, finished third in 22.26 seconds.
It did not matter to Schippers.
"Nobody is at their best at this stage in the season," she said. "It is a head-to-head duel and it is really important."
Felix knows she will have to step up her speed work after centering most of the season on the 400m.
"Hopefully I'll get back to some more speed work next year and be ready to go," Felix said.
Now all eyes are turned toward August in Brazil. With 100m silver to go with her 200m gold, Schippers adds a defining European touch to a sprinting mix that had too often been the sole preserve of American and Caribbean athletes.
Justin Gatlin was also thinking of Rio when he pulled out of the 200m after he had already won the 100m early in the evening.
Gatlin struggled into a slight headwind and barely held off Femi Ogunode of Qatar to win in 9.98 seconds.
Both sprinters finished in the same time and held an edge of 0.01 over Jimmy Vicaut of France.
Gatlin said felt a twinge in his left quad and didn't want to enter the off-season nursing an injury.
"I just wanted to be safe so I could use my time enjoying myself," he said.
Gatlin finished runner-up to Usain Bolt at the World Championships in both sprint races and doubled in Brussels after the Jamaican pulled out of the meet earlier this week, also to spare him the risk of injury.
Ogunode won the 200m in 19.97 seconds.
The best competition of the event came early in the triple jump, where Colombia's Caterine Ibarguen again put the longest active winning streak in athletics — three years — on the line. It was close. She was still in third place on her last triple jump attempt, and again proved her resilience by bouncing back with leap of 14.60m to sweep past Israeli Hanna Knyazheva-Minenko and Russian Yekaterina Koneva and clinch her 30th straight win.
The evening also had two African records, with Faith Kipyegon of Kenya winning the women's mile in 4 minutes, 16.71 seconds and Habiba Ghribi of Tunisia becoming the fastest non-Russian 3,000 steeple chaser with a time of 9 minutes, 5.36 seconds.
Comments will be moderated. Keep comments relevant to the article. Remarks containing abusive and obscene language, personal attacks of any kind or promotion will be removed and the user banned. Final decision will be at the discretion of the Taipei Times.