Taiwan to face Vietnam in qualifier
Taiwan face a stern test when they host Vietnam at the Taipei Municipal Stadium tonight (7pm kick-off) in a Group F FIFA 2018 World Cup Asian qualifying match.
Needing a win to remain in contention, Taiwan head coach Chen Kuei-jen said he has made some adjustments to the starting lineup and team formation to face Vietnam, after a 5-1 thrashing by Iraq on Thursday last week.
"We will have a different look from the last match. Our players have been in training and preparing to go all out, so we can get a win for our home fans," Chen said at a media briefing yesterday.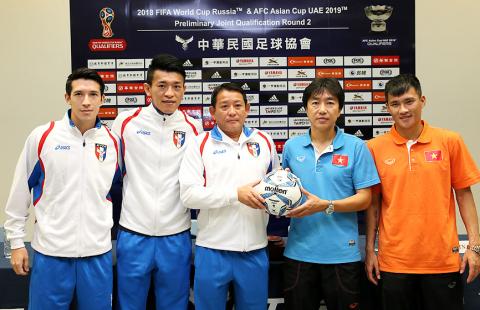 Taiwan coach Chen Kuei-jen, center, is accompanied by members of the national soccer team at news conference with Vietnam coach, Toshiya Miura, second right, and Vietnam's star player, Le Cong Vinh, right, at the Taipei Municipal Stadium yesterday.
Photo: Liang Wei-min, Taipei Times
Chen said that it is vital the defense keep everything tight at the back.
"We have watched Vietnam's match against Thailand. We know that Vietnam's players are younger than ours and they have a very good defense," he said.
"Our advantage is in midfield and forward lines, where we have a lot of pace. If we can capitalize on our opportunities, then we have a chance to pick up a victory," Chen said.
Vietnam's Japanese head coach, Toshiya Miura, said his team is not just looking to hold out for a draw, adding that his team's aim is to pick up all three points with a win against the hosts.
"We have added a number of young players to the squad. Our team has a strong fighting spirit and will give everything to advance to the next round," Miura said.
Miura said he expects Taiwan to attack at pace, pushing men into the area, adding that most Taiwan players have a slight height advantage.
"Our game will mainly be based around our defensive midfielders and the back four maintaining possession, while our attacking players look for openings on the break. However, we have other game plans and can adapt during the match if necessary," he said.
With all 20,000 tickets for the match having been sold in advance, the stadium is to host the nation's largest crowd ever for a soccer match, according to officials, with the visitors expected to draw a large support due to the numbers of Vietnamese migrant workers in Taiwan.
The encounter has already made history, as it is the first time that the national soccer authority has sold tickets for a competitive international match.
The decision to put tickets on sale was taken following the large numbers of supporters who turned out to watch a previous Group F contest between Taiwan and Thailand on June 16, which saw more than 18,000 fans packed into the stadium.
Xavier Chen, the Belgian-Taiwanese defensive leader, said the players would be highly motivated to win the match.
"There will be an exciting atmosphere with 20,000 people packed into the stadium... I just hope it does not create too much pressure for our players," he said.
Comments will be moderated. Keep comments relevant to the article. Remarks containing abusive and obscene language, personal attacks of any kind or promotion will be removed and the user banned. Final decision will be at the discretion of the Taipei Times.