Yankees end Jays' streak, reclaim division top spot
Aaron Sanchez tried to slip one more fastball past Carlos Beltran in the eighth inning on Friday, but the Toronto Blue Jays right-handed reliever did not get the four-seamer where he wanted it this time.
Instead it was right where Beltran could hit it.
The New York Yankees pinch-hitter hammered the 1-2 pitch to right center for a three-run homer, enough for a 4-3 victory, which ended the Blue Jays' 11-game winning streak.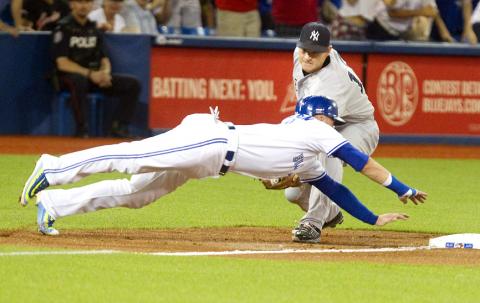 The Toronto Blue Jays' Josh Donaldson dives safely back to third as the New York Yankees' Chase Headley attempts the tag during their game in Toronto on Friday.
Photo: AP
"With the [noisy sellout] crowd in the stands I was a little amped up," Sanchez (6-5) said. "And I saw that I threw the first pitch by him, it was elevated, so I was just trying to attack there the whole at-bat."
"The fourth pitch, to me, seemed like it was right over the plate. The moral of the story is I didn't get my job done, and it cost us a win," he said.
Beltran's homer capped a four-run eighth for the Yankees (63-51), who regained a half-game lead over the second-placed Blue Jays (64-53) in the American League East.
"As soon as I hit it, I knew it was going to leave the ballpark," Beltran said. "It's a good feeling being able to come off the bench and come through and help the team win a ball game."
Yankees right-hander Ivan Nova (5-4) overcame a three-run third inning for the victory. Nova allowed five hits, one walk and three runs in seven innings. He also hit two batters and struck out three.
Blue Jays left-hander David Price allowed 11 hits, no walks and three runs in 7-1/3 innings and did not factor in the decision. He struck out six.
"We knew those guys were going to be ready to play tonight," Price said. "They snuck it in late. A loss like this can definitely bring your team closer whenever it happens like that. In this situation I know that we're going to come ready to win tomorrow."
Price did not allow a run until the eighth when he gave up three straight hits with one out as he tried for his third win in as many starts since he was acquired in a trade with the Detroit Tigers on July 30.
Yankees first baseman Mark Teixeira and catcher Brian McCann singled with one out in the eighth. Third baseman Chase Headley hit an RBI double. Sanchez replaced Price before Beltran, batting for right fielder Chris Young, hit his 11th homer of the season.
"It was a tough decision, no question about it," Blue Jays manager John Gibbons said. "It backfired. I felt good about putting Sanchy in. It didn't work. When those don't work, you analyze them, that's for sure."
Yankees right-hander Dellin Betances pitched the eighth and left-hander Andrew Miller worked a nervous ninth to pick up his 26th save of the season.
In other games on Friday, it was:
‧ Padres 9, Rockies 5
‧ Dodgers 5, Reds 3
‧ Pirates 3, Mets 2, 10 innings
‧ Cardinals 3, Marlins 1
‧ Cubs 6, White Sox 5
‧ Royals 4, Angels 1
‧ Giants 8, Nationals 5
‧ Astros 5, Tigers 1
‧ Rangers 5, Rays 3
‧ Orioles 8, Athletics 6, (13)
‧ Braves 3, Diamondbacks 2
‧ Indians 6, Twins 1
‧ Brewers 3, Phillies 1
‧ Red Sox 15, Mariners 1
Comments will be moderated. Keep comments relevant to the article. Remarks containing abusive and obscene language, personal attacks of any kind or promotion will be removed and the user banned. Final decision will be at the discretion of the Taipei Times.