Larkin, Campbells set unique doubles
HISTORY DENIED: Daniel Gyurta of Hungary finished third in the men's 200m breaststroke final, missing out on a fourth straight title in the event and a rare feat
Australia achieved two unique doubles at the FINA World Championships in Kazan on Friday as Mitchell Larkin claimed another backstroke title and the Campbell sisters took 100m freestyle gold and bronze.
Larkin, 22, is the first Australian to win both the 100m and 200m backstroke titles at a worlds.
Compatriot Emily Seebohm was to attempt to match him in the women's 200m backstroke final yesterday, having already claimed the 100m world title on Tuesday.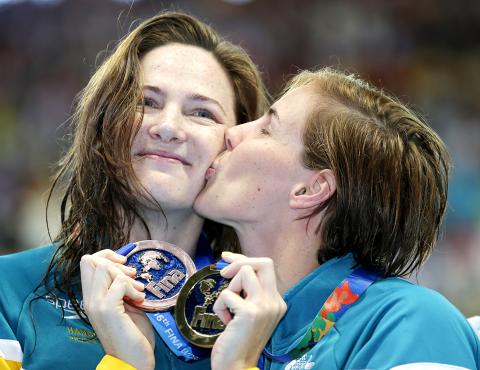 Australia's Bronte Campbell, right, kisses her elder sister and bronze medalist Cate Campbell after winning the women's 100m freestyle final at the FINA World Championships in Kazan, Russia, on Friday.
Photo: AP
Larkin clocked 1 minute, 53.58 seconds to claim his gold after a strong surge over the last 50m, while Poland's Radoslow Kawecki took silver at 0.97 seconds back and Russia's Evgeny Rylov earned bronze at 1.02 seconds back.
It had been a decade since there was a double men's backstroke world champion after Aaron Piersol of the US won both events in Montreal in 2005.
"I have achieved some of the greatest dreams of mine since I was a kid," Queensland-born Larkin said. "To be a world champion is one thing, but to be a double champion is amazing."
Larkin admitted he was inspired by Australia's two medals in the women's 100m freestyle final just before his race, after Bronte Campbell kept it in the family by succeeding elder sister Cate as world champion.
It was the first time the sisters have made the podium at a worlds in an individual event, but the Campbells had already stood on the dais together in Kazan after Australia won the 4x100m freestyle relay on Sunday last week.
Bronte clocked 52.52 seconds to win the 100m title, with Sweden's Sarah Sjostrom taking silver at 0.18 seconds back and Cate earned bronze at 0.30.
"It was unbelievable. Me and my big sister were standing up there on the podium singing the national anthem together," 21-year-old Bronte said. "It was great to be able to share the moment with her.
Britain claimed their fifth gold medal in the Kazan pool in the men's 4x200m freestyle relay thanks to a superb anchor leg from individual champion James Guy.
The 19-year-old, who won the 200m freestyle world title on Tuesday, took the British quartet from third to first to win on the wall.
He touched at 7 minutes, 4.33 seconds, while the US took silver at 0.42 seconds back and Australia earned bronze at 1.01.
Hungary's Daniel Gyurta was denied a historic fourth straight 200m breaststroke title, as Germany's new champion Marco Koch came within 0.75 seconds of the world record to claim gold.
Koch clocked 2 minutes, 7.76 seconds, while Kevin Cordes of the US earned silver at 0.29 seconds back and Gyurta had to settle for bronze at 0.34.
Had he won, the Olympic champion would have joined Ryan Lochte, in the 200m individual medley, and Grant Hackett, in the 1,500m, as the only swimmers to have claimed a fourth straight gold in a single world championship event.
There was a bizarre twist in the women's 200m breaststroke final — three swimmers were awarded bronze as Japanese teenager Kanako Watanabe won the gold to claim her second medal in Kazan.
Watanabe, 18, clocked 2 minutes, 21.15 seconds, with Micah Lawrence of the US taking silver at 1.29 back.
However, Spain's Jessica Vall, Denmark's world-record holder Rikke Moller Pedersen and China's Shi Jinglin all swam 2 minutes, 22.76 seconds in a three-way split for third.
It was the second gold for Japanese women in the Kazan pool in as many days after Natsumi Hoshi claimed a surprise victory in the 200m butterfly on Thursday.
Hungary's Katinka Hosszu was the fastest entering yesterday's women's 200m backstroke final after clocking 2 minutes, 6.18 seconds, with Seebohm just behind in 0.38 seconds.
World-record holder Missy Franklin of the US was third fastest at 1.61 seconds behind, as she chases her first gold in Kazan.
Nathan Adrian of the US was the fastest heading into yesterday's men's 50m freestyle final, but the Olympic 100m champion faces a battle royal as France's Florent Manaudou was just 0.04 seconds behind him.
Chad le Clos of South Africa, Tom Shields of the US and Hungary's Laszlo Cseh were all to contend for the 100m butterfly medal yesterday.
Shields and Cesh, who won the 200m gold on Wednesday, both clocked 51.03 seconds to win their respective semi-finals, while Le Clos was just 0.08 seconds back.
Comments will be moderated. Keep comments relevant to the article. Remarks containing abusive and obscene language, personal attacks of any kind or promotion will be removed and the user banned. Final decision will be at the discretion of the Taipei Times.