Taipei Hulks clean up in Fast Four
The brainchild of former Taiwan Touch player James Chang evolved to the next level in Taipei yesterday, while premier side the Taipei Hulks returned to their winning ways.
Last year saw the first Touch Threes tournament, pitting teams of just three players against each other. At the Bailing rugby fields in Shilin District this year, it was Fast Four, which allowed a bit more creative play.
The Hulks showed no mercy, taking the men's and mixed divisions without dropping a game.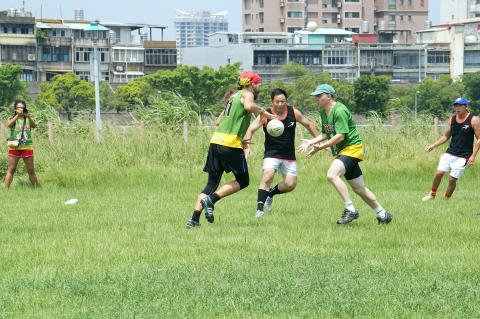 Galaxy Giesen's Kiwi Lee, center, defends against Mark Goding, left, and David Hood of the Silver Sausages in their Fast Four game in Taipei yesterday.
Photo: Grant Dexter, Taipei Times
Their mixed side romped through the preliminary rounds, notching 22 touchdowns and conceding only three. They faced Ya-Hui's Heroes in the final and won 6-2.
The men's team also faced little threat in any of their games, winning all of their games by five points.
They took out the Coconut Boyz 8-3 in the final.
The closest game of the day in the men's draw saw Ya-Hui's Heroes overcome a two-point deficit, scoring with the last play to take a 6-5 win over Galaxy Giesen.
It was a tough day out for all three Galaxy sides on display — Giesen won their opener against the Silver Sausages, but folded badly against the Hulks before the close loss put them out of contention.
In the mixed draw, Galaxy Simuolive picked up a win against fellow Galaxians, M&T Creative Marketing, but also suffered a last-gasp loss to Ya-Hui's Heroes, going down 4-3.
The event was the last before Taipei Touch Association treasurer Trent Prestegar heads to China to take up a new job after nine years in Taiwan.
Outside of work, he said it was a great opportunity for him to advance his participation in the game — organizing events, and advancing his skills as a referee and player — as China's national development squad is based in the city and Rachel Grantham, who works for the Asia Coaching Commission for world governing body Federation of International Touch, is just two hours away in Hong Kong.
"It's been great in Taiwan learning the game," Prestegar said, adding that he had never played before moving to Taipei three years ago. "There have been great opportunities, getting referee's qualifications, and coaching and playing."
Prestegar was sure it would not be long before he would be seeing the Taipei teams again.
"Everybody says: 'Goodbye,' but it's more like: 'See you later,'" he said, laying out the challenge that he might return with a team behind him, perhaps to challenge the "Hulk smash."
Comments will be moderated. Keep comments relevant to the article. Remarks containing abusive and obscene language, personal attacks of any kind or promotion will be removed and the user banned. Final decision will be at the discretion of the Taipei Times.