Tainan hosting World Cup
The U12 Baseball World Cup got under way in Tainan yesterday, with the traditional Little League powerhouse nations expected to vie for the title.
Twelve U12 national squads have arrived in Tainan to participate in the week-long tournament, organized by the World Baseball and Softball Confederation (WBSC).
The top three teams from the two groups advance to the playoffs after the opening round-robin games.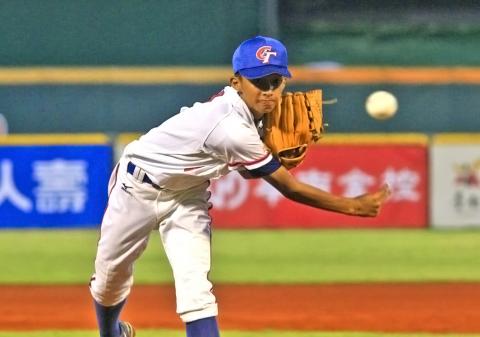 Taiwan's Chen Hao-en pitches against South Korea in their U12 Baseball World Cup game in Tainan yesterday. Taiwan won the game 7-2.
Photo: Tung Chun-chih, Taipei Times
Taiwan are in Group A along with Cuba, South Korea, Brazil, Venezuela and Russia.
Group B consists of Japan, the US, Mexico, Nicaragua, Australia and France.
The world title, along with the silver and bronze medals, are to be settled in the finale on Aug. 2.
All the games take place in and around Tainan, mainly at the Tainan Municipal Baseball Stadium, as well as Shanhua and Guei-Ren stadiums.
Tainan Mayor William Lai welcomed the competing teams and the international visitors at a press conference on Thursday.
He said the Tainan region has a rich history and long tradition of playing baseball. With the support of the WBSC, Tainan could be built up to be the baseball capital of Taiwan, he said, as well as the "Williamsport of the East," in reference to the Pennsylvania city best known for hosting Little League.
In the opening games yesterday, Taiwan beat South Korea 7-2 and Cuba routed Russia 13-0 in Group A, while the US thrashed Nicaragua 15-3 in Group B.
Comments will be moderated. Keep comments relevant to the article. Remarks containing abusive and obscene language, personal attacks of any kind or promotion will be removed and the user banned. Final decision will be at the discretion of the Taipei Times.