Formula One letting down fans and drivers: Webber
Formula One is failing both fans and drivers and needs to become more gladiatorial and less artificial, former Red Bull driver Mark Webber has warned as the sport considers its future direction.
In an interview released by Red Bull ahead of tomorrow's Austrian Grand Prix, the Australian echoed calls for change from the energy drink company's billionaire owner Dietrich Mateschitz.
"The championship itself and Formula One itself is not in great shape," said Webber, runner-up for Porsche in last weekend's Le Mans 24 Hours sportscar race.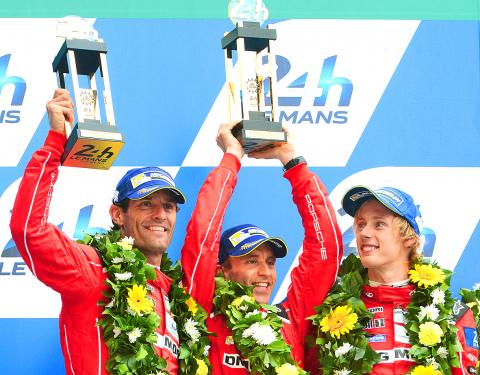 Mark Webber, left, Timo Bernhard and Brendon Hartley celebrate their second-place finish on the podium at the Le Mans 24 Hours on Sunday in Le Mans, France.
Photo: AFP
"I think we're disappointed with it as F1 fans... All the drivers that I'm talking with, we're disappointed with what's going on with the cars, the lap times, it's just not stimulating for the drivers, and this is rubbing off, the fans can see this. Over the last five or six years, they've got many, many, many things wrong to try and make the sport better and it became a sniff too artificial," Webber said.
Webber, who left Formula One at the end of 2013 after winning nine races for then-dominant Red Bull, had been critical of the direction the sport was taking even before he moved to sportscars.
Red Bull, whose relationship with engine supplier Renault has soured notably this year after they won four championships in a row together from 2010 to 2013, have also become increasingly vocal in calling for change.
The sport is now looking at ways of making cars faster and lighter for 2017 to allow drivers to race flat out rather than having to coast and save tires and fuel, but various proposals have yet to be finalized.
"There's a lot of questions to be answered and they need to act fast on getting the fans engaged again," Webber said.
"MotoGP, my God, not many people can do that and that's why people watch. Messi, Ronaldo, this is what people love to switch a TV on for," he added.
"We've got a big chance here to keep Formula One like that, but it's not like that at the moment, it's a shame, they've dulled it down," Webber said.
Webber said making cars five or six seconds faster was not enough.
"The reference point that we now have is horrendous in terms of pace," he added. "It needs to be on a different level. They need to make heavy changes and get the drivers stimulated again and that'll wash off on the fans."
Comments will be moderated. Keep comments relevant to the article. Remarks containing abusive and obscene language, personal attacks of any kind or promotion will be removed and the user banned. Final decision will be at the discretion of the Taipei Times.