American Pharoah will 'have to earn' win: owner
American Pharoah's owner Ahmed Zayat welcomes a field of fresh horses for Saturday's US$1 million Belmont Stakes, saying that his battled-tested colt will "have to earn it" to end a nearly four-decade Triple Crown drought.
"In order to define greatness, you have to do things that have not been done," Zayat told reporters in a telephone call. "He needs to prove that he's a cut above."
None of American Pharoah's nine expected rivals in the 2.4km Belmont Stakes raced in the Kentucky Derby and also the Preakness, with some skipping both races.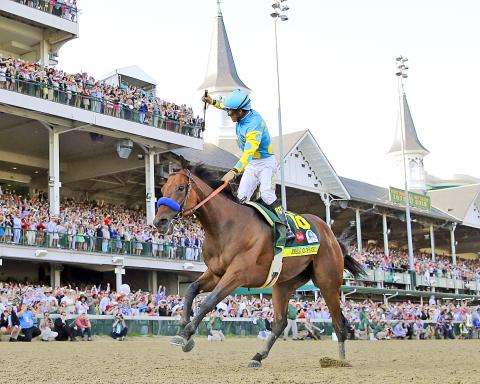 Victor Espinoza rides American Pharoah to victory in the 141st running of the Kentucky Derby at Churchill Downs in Louisville, Kentucky, on May 2.
Photo: AP
Zayat's colt captured the 18-horse Kentucky Derby on May 2 by a length after a difficult trip, and then two weeks later easily claimed the Preakness Stakes in a driving rainstorm.
Thirteen times since Affirmed won the Triple Crown in 1978 has a horse won the Derby and Preakness, but each has failed at the Belmont Stakes, usually running out of gas in the stretch.
"My horse is going to have to earn it," said Zayat, whose horses finished second three times over the last six years in the Kentucky Derby before American Pharoah won the US' most celebrated race.
Zayat, 52, said he would like to see Kentucky-bred American Pharoah, trained by Bob Baffert and ridden by Victor Espinoza, complete the Triple Crown for the health of the industry.
"I want it for the fans," he said. "They've been waiting for 37 years. The sport needs it. A sport without a star is not a sport. Imagine having basketball without Michael Jordan or LeBron [James]. I'm excited. I'm pumped."
The Belmont Stakes is known as the "Test of Champions" and its agonizingly long homestretch is often referred to as the "The Graveyard of Triple Crown Dreams."
When Triple Crown hopeful California Chrome faded in the Belmont Park stretch last year, his co-owner, Steve Coburn, angrily called for rule changes, because his colt faced a slew of fresh horses, including winner Tonalist, who skipped the Derby and Preakness.
Zayat believes the current rules should remain intact.
"I don't think anything should be changed," he said. "Once you start playing with things that have been done for a hundred years, you're playing with tradition and history. It's not supposed to be easy."
The Egypt-born Zayat is an entrepreneur who has been in the horse racing business since 2006. He is not surprised by his success in an industry known for breaking hearts and wallets in equal measure.
"With all humbleness, my success isn't surprising in that I want to be the best in what I do," he said. "This has been the story of my life. I'm driven. I'm a hard worker.
"You have to have the horse, sure. There's a lot of teamwork that goes in this, but I believe the harder you work, the luckier you get," Zayat said.
Zayat said he plans on running American Pharoah for the rest of the three-year-old season, whether or not the colt wins the Triple Crown.
"This whole Triple Crown thing is really surreal, very humbling," he said. "I'm still pinching myself that it's really happening. I am living the dream. And honestly, I don't want to wake up."
Comments will be moderated. Keep comments relevant to the article. Remarks containing abusive and obscene language, personal attacks of any kind or promotion will be removed and the user banned. Final decision will be at the discretion of the Taipei Times.