Dnipro Euro success helps lift gloom in war-weary Ukraine
Eastern Ukrainian club Dnipro Dnipropetrovsk are unexpectedly poised for possible European soccer glory, lifting the gloom in their war-weary nation, at least for a while.
With fighting raging on the doorstep of their hometown of Dnipropetrovsk, the club had to travel 500km to play their UEFA Europa League home matches in the capital, Kiev, away from their fans and often at near-empty stadiums.
That sapped morale early on, they said.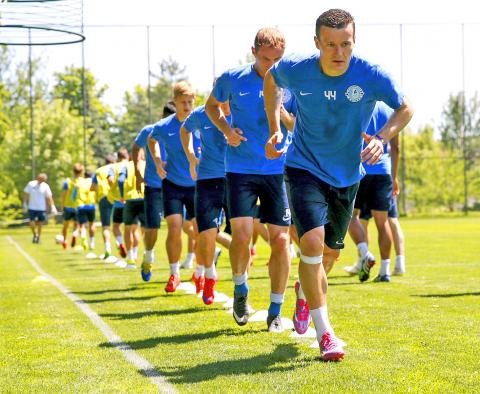 Dnipro Dnipropetrovsk players take part in a training session in Dnipropetrovsk, Ukraine, on May 22.
Photo: Reuters
However, despite the odds, they have fought their way to the Europa League final tonight against Spain's Sevilla, and when they run onto the pitch in Warsaw, they said they are going to have their compatriots on the front line in mind.
"These are hard times for our state and for us, too. We are hoping our sporting achievement will inspire our heroes who are defending our country from the enemy," Dnipro defender Artem Fedetsky said.
"We know the whole of Ukraine will be with us at the stadium. We will be playing for them," head coach Myron Markevich said.
An industrial city, with a population of just less than 1 million, Dnipropetrovsk has avoided being sucked into the war against Russian-backed rebels, a conflict which has killed more than 6,200 people in just over a year.
It has seen an influx of refugees and is home to an important medical center for treating wounded military members, and has come to be regarded as a bulwark against the separatist threat affecting neighboring big cities, such as Donetsk.
Many attribute this to Ihor Kolomoisky, Dnipro's billionaire owner and president, who bankrolled formation of a pro-government militia to stop early signs of separatist sympathies taking root.
He later fell foul of the pro-Western authorities and was dumped as regional governor, though his Privat banking group still holds Dnipro.
The main boulevard of Dnipropetrovsk, where acacias throw off a heady scent in the evening, is still called Prospekt Karl Marx — but probably not for much longer as a national program for dropping Soviet name tags takes hold.
As in many Ukrainian cities, a monument to Soviet state founder Vladimir Lenin was taken down in the center last year.
The team had to fly back and forth to Kiev for qualifying matches after a ruling by soccer's organizing body, UEFA, that said the Dnipro Arena stadium was too dangerous.
"We had to play all our home matches in Kiev. The stands were practically empty and without the … feel that there should be, but we gritted our teeth, fought on and eventually people got interested. At the game with [SSC] Napoli there was a full stadium," Fedetsky said.
The war has added an edge to the support Dnipropetrovsk has shown for the team.
"I have friends and friends of friends who are fighting. They have been drafted into the army or are in volunteer battalions. We and our fanatical fans help them as best as we can," Fedetsky said.
No matter what happens in Warsaw, the club is likely to celebrate triumph over adversity.
Comments will be moderated. Keep comments relevant to the article. Remarks containing abusive and obscene language, personal attacks of any kind or promotion will be removed and the user banned. Final decision will be at the discretion of the Taipei Times.