Business at top end grand for Trump
Warning bells have sounded on the health of golf, from lower participation and course closures to environmental demands for reduced water use, but US billionaire entrepreneur Donald Trump said business at the high end is grand.
Trump yesterday was to stage the grand opening of Trump Links at Ferry Point, his latest golf enterprise, where he oversaw the transformation of a New York City dump into a jewel of a public course designed by Jack Nicklaus.
"We're very proud of it. It's doing great business. People are thrilled," the businessman said from behind his massive desk on the top floor of Trump Tower on Manhattan's Fifth Avenue in New York City. "I'm happy because I did a good thing for the city."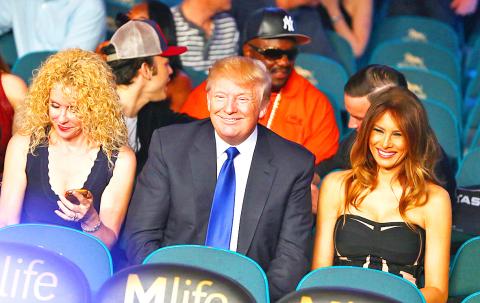 Donald Trump, left, and his wife, Melania, attend the welterweight boxing fight between Floyd Mayweather Jr and Manny Pacquiao at the MGM Grand Garden Arena in Las Vegas, Nevada, on May 2.
Photo: USA Today
A very good thing, at least, for Big Apple golfers with the means to pay weekday green fees from US$175 for city residents to US$225 for those from beyond its borders, including cart.
The treeless links-style course with dramatic mounds dotting the fairways, stretches from the foot of the Whitestone Bridge in the Bronx, with views of the Manhattan skyline and East River.
"It's the best municipal course in the world," said Trump, who is not prone to understatement. "It will be the home of many majors over the years."
When real-estate magnate and avid golfer Trump jumped into the golf business, about 20 years ago, he began by building courses. After the market swooned he took to "buying low" and rebuilding distressed, luxury properties.
Despite some sagging economic results in the industry, Trump said his golf interests are thriving.
"Golf is doing great," he said in his man cave of a 26th-floor executive office, surrounded by plaques and golf trophies, and a picture window view of Central Park greenery. "Places that should never have been built have now disappeared."
When he started, he said his goal was to host majors. Trump now has 17 courses and a string of majors lined up.
Trump National Golf Club in Bedminster, New Jersey, is scheduled to host the 2017 US Women's Open and 2022 PGA Championship.
Trump National Golf Club in Washington, set along the Potomac River, is to host the 2017 Senior PGA Championship.
Trump National Golf Club in Los Angeles is due to host this year's PGA Grand Slam of Golf, featuring winners of the year's four majors.
International acquisitions include Turnberry in Scotland, Trump International Golf Links Scotland in Aberdeen and Doonbeg in Ireland, now Trump International Golf Links, Ireland.
Turnberry is holding the Women's British Open this year and remains a candidate to host a fifth British Open.
Some feathers have been ruffled with Trump's rise.
He was a vocal critic of the US Golf Association's (USGA) presentation of last year's men's and women's US Opens at Pinehurst, where native grasses were planted to conserve water as part of a USGA initiative, giving a browned look to the event.
"I like the brown at Turnberry," Trump said about the vegetation at the seaside course. "I didn't like the brown at Pinehurst because it was artificial. I love Mike [Davis, USGA executive director]. I just thought that it wasn't good for television. I don't think it played well on television and I don't think it was good for golf."
In the highlands of Scotland, Trump took to tilting at windmills.
His Aberdeen project hit a snag when he sought to eliminate alternative energy windmills he felt marred views from the course.
"I've been really successful in stopping the windmills. These windmills are a blight," he said. "I've been suing the Scottish government for about five years."
USPGA chief executive Pete Bevacqua said that Trump is a positive force in golfing world.
"He just gets the game. He loves the game, he puts his effort, his personality and his energy behind the game," Bevacqua said. "I wish more people with his influence and resources would become passionate about this game. Right now, he has the Midas touch in golf."
Trump, who made his fortune in real estate, has combined his zest for the art of making a deal with his sport of choice.
Of the distressed sale that brought him the coastal property south of Los Angeles, Trump said: "You couldn't buy a piece of land like that for 1 billion US dollars today, and I bought it for US$27 million. Six hundred acres [242.81 hectares] on the ocean in Los Angeles."
Comments will be moderated. Keep comments relevant to the article. Remarks containing abusive and obscene language, personal attacks of any kind or promotion will be removed and the user banned. Final decision will be at the discretion of the Taipei Times.