Harden scores 45 points to help keep Rockets in playoffs
Houston's James Harden scored a playoff career-high 45 points while Golden State's Stephen Curry suffered a scary fall as the Rockets led from start to finish and beat the Warriors 128-115 on Monday to stave off elimination from the NBA playoffs.
The Rockets scored 45 points in the first quarter — equaling a playoff record — to quickly get on top. They were up by 22 in the second quarter when league MVP Curry landed on his head in a nasty spill and missed about 12 minutes before returning.
Curry's first field goal after returning was a three-pointer that got Golden State within six points with less than 8 minutes, 30 seconds remaining. However, Harden, who had 17 points in the fourth quarter, scored the next seven points as part of 10 straight by Houston to push the lead to 114-98 and effectively end it, cutting the series deficit to 3-1.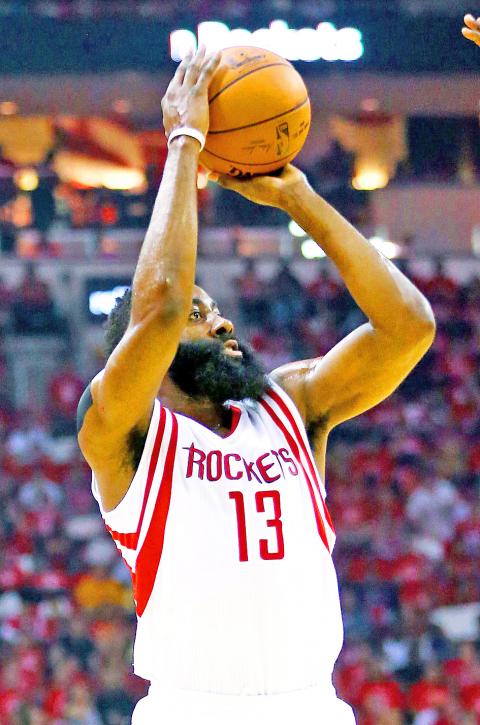 The Houston Rockets' James Harden shoots against the Golden State Warriors in their NBA Western Conference Finals game at the Toyota Center in Houston, Texas, on Monday.
Photo: AFP
Harden's match-winning performance made up for a disappointing output in Game 3.
"I always want to take it out on my opponent in a good way," Harden said. "Just being aggressive, taking shots, getting to the basket, not really forcing anything and allowing the game to come to me."
Klay Thompson had 24 points and Curry added 23 for Golden State, who were looking to secure their first trip to the NBA Finals since 1975 after routing Houston 115-80 on Saturday night to take a 3-0 lead in the series.
The Warriors get another chance at home in Game 5 today.
Houston bounced back from a 3-1 deficit to the Los Angeles Clippers in the conference semi-finals. However, they face a much bigger challenge in this series, as no team in NBA history has won a playoff series after trailing 3-0.
Houston's Dwight Howard had 14 points and 12 rebounds, and received a flagrant 1 foul early in the third quarter after throwing an elbow at Andrew Bogut's head. He would be suspended by accumulation of flagrant foul points if the NBA upgrades it to a flagrant 2 after review.
"I hope not, but there's nothing I can do about it at this point. It's never my intention to hurt anybody on the floor. My reaction was to try to get him off me, but I can't react that way," he said.
The Warriors made 20 three-pointers and Houston had 17 to set an NBA record for most three-pointers combined in a playoff game.
Curry was injured after he jumped in the air as Trevor Ariza was about to go up for a shot. Ariza saw him and stopped abruptly, causing Curry to be upended in midair when he crashed into Ariza's shoulder. His head hit the court and it propelled him up and back onto the floor where he remained for several minutes.
Curry looked dazed as he was attended to before slowly getting up and walking off the court.
"It was all minor stuff compared to how it looked, but I'll get some good rest and be ready to go. Since it happened to now, nothing has gotten worse," he said.
Comments will be moderated. Keep comments relevant to the article. Remarks containing abusive and obscene language, personal attacks of any kind or promotion will be removed and the user banned. Final decision will be at the discretion of the Taipei Times.