UEFA planning to ease rules on club spending: Platini
UEFA is preparing to ease rules that limit how much Europe's top clubs spend on player transfers and wages.
UEFA president Michel Platini said that the UEFA executive committee could relax some Financial Fair Play (FFP) regulations.
Barely a year after UEFA fined big-spending Manchester City and Paris Saint-Germain 20 million euros (US$22.8 million) each for FFP violations, changes could be agreed at a June 29 and June 30 meeting in Prague.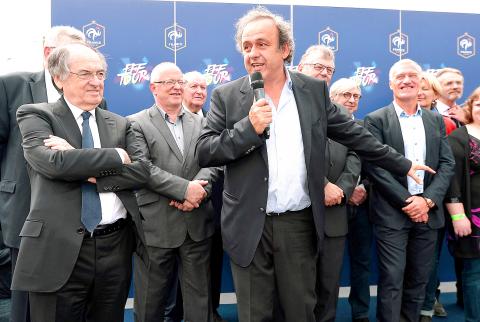 UEFA president Michel Platini speaks at the launch of the Euro 2016 road show in Joeuf, France, on Saturday.
Photo: AFP
Launched by Platini in 2009, FFP was once seen as a threat to expel high-profile clubs from the UEFA Champions League. Instead, the project — which monitors accounts of all clubs that qualify for the Champions League and UEFA Europa League — has appeared to protect established clubs with worldwide commercial appeal from challenges by ambitious opponents with wealthy new owners.
The review was explained on Monday as needed to "keep pace with the ever-changing football environment and the new challenges that this often poses."
"Any potential changes to the existing regulations will look to encourage more growth, more competition and market stimulation," UEFA secretary- general Gianni Infantino said in a statement.
UEFA has held regular talks with European clubs since October last year about modifying rules, which first sanctioned clubs last season for spending above their income from football business.
UEFA and the European Club Association on Monday declined to comment on details of any proposals.
One option could be allowing owners to invest more of their own money to chase or sustain success.
In 2009, Platini claimed support from some of Europe's wealthiest club owners — including at Chelsea, AC Milan and Inter — saying they wanted to control spiraling spending.
The Milan and Inter, who share the city-owned San Siro, have since fallen behind rivals' commercial income and now fail to qualify for the Champions League.
In addition, the financial rules eventually detailed by UEFA were criticized for protecting high revenue clubs like Chelsea.
Man City and PSG were able to spend heavily after being bought with sovereign wealth from Abu Dhabi and Qatar respectively.
Both clubs in May last year were punished by UEFA in the first round of sanctions, while winning their national league titles.
UEFA also imposed limits on the clubs' future transfer spending and salary bills, with further 20 million euro fines to be activated for breaches.
The threats appeared to block City's interest in signing Radamel Falcao from AS Monaco last off-season. PSG also ended attempts to sign Angel di Maria from Real Madrid. Both players went to Manchester United, who have greater commercial income from a long-standing global reputation.
In the latest sanctions announced this month, Inter were fined 6 million euros and Monaco were fined 3 million euros.
Comments will be moderated. Keep comments relevant to the article. Remarks containing abusive and obscene language, personal attacks of any kind or promotion will be removed and the user banned. Final decision will be at the discretion of the Taipei Times.