Marc Gasol to mull free agency options
STAYING OR GOING? With some of the All-Star center's teammates reportedly concerned, Mike Conley said he thought his friend would make 'the right decision'
The Memphis Grizzlies head into the off-season with a major goal of re-signing their free agent All-Star center.
Marc Gasol is in no hurry, he is on his own timetable.
He plans to take as much time as possible to consider all his options as one of this free agent market's biggest targets.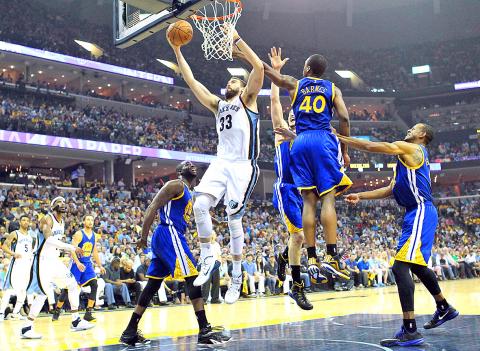 The Memphis Grizzlies' Marc Gasol, center, dunks the ball against the Golden State Warriors in their NBA Western Conference playoff game at the FedExForum in Memphis, Tennessee, on Friday last week.
Photo: AP
"I've never been through it like that," Gasol said. "Take it one day at a time and try to understand what the plan is for the next four or five years of my life."
The 2.16m-tall center from Spain has been a pivotal player in the best five seasons in Grizzlies' history. However, as they cleaned out their lockers on Monday after being eliminated in the Western Conference semi-finals on Friday last week by the Golden State Warriors, Gasol's future with the Grizzlies is unclear.
The Grizzlies have made it clear since midway through last year that they want Gasol back. He becomes a free agent July 1 and questions have been swirling for months on the teams eager to lure Gasol away from the town where he went to high school.
Gasol answered questions for more than 10 minutes, sidestepping a variety of inquiries on his decision. He said he has been busy evaluating the series loss to Golden State, not his pending contract situation. He said he cannot see the future and cannot imagine what it is going to be like.
He also made it clear his ties to Memphis go beyond basketball.
"My whole family has been here since 2001," Gasol said.
His teammates are split between between optimism and concern about Gasol's future. Point guard Mike Conley, considered Gasol's closest friend on the team, said he has not worried about it much.
"I think he's going to make the right decision," Conley said.
Gasol's decision is likely to impact a busy off-season for the Grizzlies. Backup center Kosta Koufos' contract is up and Jeff Green, obtained mid-season from Boston, has a player option on his deal.
"It's just taking it day-by-day," Koufos said of his free agency. "I understand it's a business. I'm not looking too far ahead."
The Grizzlies should be, they need more outside shooting.
A swoon combined with injuries after the All-Star game dropped them from the No. 2 spot they held for much of the season to the fifth seed facing top-seeded Golden State. The Warriors exposed Memphis' inability to ease the pressure on Gasol and power forward Zach Randolph.
Guard Courtney Lee, who led Memphis shooting with 40 percent from outside the arc, said the team could use another player offensively.
"If people want more three-point shooters and want more threes to go down, that's fine with me," Lee said. "I can't carry a whole team's load."
Comments will be moderated. Keep comments relevant to the article. Remarks containing abusive and obscene language, personal attacks of any kind or promotion will be removed and the user banned. Final decision will be at the discretion of the Taipei Times.