Figure skater blasts critics after win
Tired of doubters telling her she is past her prime, newly crowned US champ Ashley Wagner delivered a stern message to her critics on Saturday — telling them to "shut their mouths."
"It shows every single person that doubts me, that thinks I am too old, that they need to shut their mouths and watch me skate," Wagner said after claiming her third career title at the US Figure Skating Championships.
The 23-year-old Wagner, who took a five-point lead into Saturday's long program, earned a record 148.98 points in the free skate to easily beat defending champion Gracie Gold. She became the oldest woman to win a US title since Michelle Kwan did it at age 24 in 2005.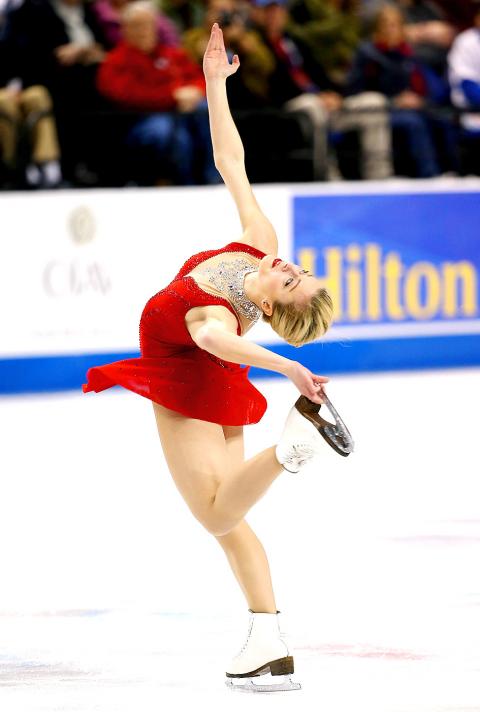 Ashley Wagner competes in the ladies free skate program competition on the third day of the US Figure Skating Championships in Greensboro, North Carolina, on Saturday.
Photo: AFP
Wagner earned a 221.02 total while Gold, who won the crown as an 18-year-old last year, finished second with a score of 205.54. Rising star Karen Chen — who is of Taiwanese ancestry — took third place with a score of 199.79.
It was Wagner's first US title since the second of her back-to-back wins in 2013 and 2012.
"Of my three titles, this one tastes the sweetest. It means the most to me," Wagner said.
Despite finishing fourth at last year's nationals, organizers allowed Wagner to bump third-place finisher Mirai Nagasu off the US team for the Sochi Winter Olympics last year. Wagner failed to take advantage of her free pass, finishing seventh in Russia.
"After last year's nationals, then I had a so-so Olympics and Worlds. I felt like people were starting to write me off," Wagner said.
The Sochi Games were the first since 1936 where the Americans did not win a medal in singles or pairs events. The US has not won a medal in women's singles since 2006.
That could change with the emergence of 15-year-old Chen, who rocketed up the leaderboard from sixth after the short program to take the bronze.
Judges aside, Chen jumped her way into the hearts of the crowd with a clean long program.
"I am proud of what I have done," Chen said. "I just feel it is a good improvement over what I have done before and I hope I will continue to improve."
Comments will be moderated. Keep comments relevant to the article. Remarks containing abusive and obscene language, personal attacks of any kind or promotion will be removed and the user banned. Final decision will be at the discretion of the Taipei Times.