Bookmaker pays former France player Ginola to campaign for FIFA top job
David Ginola's unlikely bid for the FIFA presidency was exposed as little more than a publicity stunt when a bookmaking firm said it had paid the former France winger £250,000 (US$380,000) to stand.
Ginola on Friday launched an almost certainly doomed attempt to oust Sepp Blatter as head of world soccer's ruling body, assuming the role of the "fans' champion" under the slogan of "Rebooting Football."
"This campaign is all about transparency, and we are paying David £250,000 for the campaign and for being here today," a spokesman for Irish bookmaker Paddy Power said. "It is his full-time job now and, hopefully, will be for the next four months."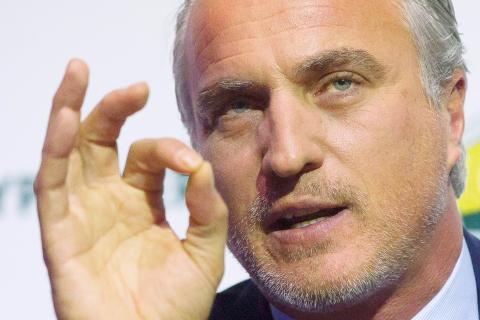 Former France soccer player David Ginola speaks at a press conference in London on Friday.
Photo: Reuters
Although Ginola spoke with charm and passion, he demonstrated little apparent understanding of the shark-infested world of FIFA politics.
"I am here today to talk about love and to share some of the most powerful emotions all of us have experienced, because that's what football means to me, you and the billions of fans spread all over the planet," Ginola said. "But we are so disappointed when we talk about the problems in football now, problems with the way our game is being run. I think it is time we changed that and to reboot football."
Ginola, who will be 48 this month, has until Jan. 29 to prove he has had an active role in soccer for two of the past five years and has the backing of five associations before his bid will be officially accepted by FIFA.
He is seeking the financial support of fans around the world through a Team Ginola Web site to help get him mount a successful election campaign.
However, the fans do not have a vote.
The FIFA boss is elected by the presidents of the 209 members of FIFA who have never shown themselves in the past 17 years since Blatter was appointed to be interested by anything other than maintaining the "status quo."
Although Ginola's stance might resonate with many following continual and widespread disillusionment with FIFA, there was little substance in what he has to offer in terms of real policy.
FIFA vice president Jeffrey Webb, who has said he does not currently plan to stand for the presidency, but may do so in the future, was critical of the bookmaking firm's involvement.
"This betting firm is notorious for controversial PR stunts, but the role of FIFA president is an extremely important one for many millions of people around the world and I would certainly hope that the forthcoming FIFA election would not be used in any way to promote commercial interests," Webb said in a statement.
Blatter, standing for a fifth term, former FIFA official Jerome Champagne of France and Prince Ali Bin al-Hussein of Jordan are to contest the vote at the FIFA Congress in Zurich on May 29.
It is unlikely that Ginola's name will also be on the ballot paper.
Comments will be moderated. Keep comments relevant to the article. Remarks containing abusive and obscene language, personal attacks of any kind or promotion will be removed and the user banned. Final decision will be at the discretion of the Taipei Times.