Soccer pays tribute to 'Charlie Hebdo' slain
From Paris to Perth soccer stars, coaches and fans united in their tributes to people killed in this week's bloodshed in the French capital.
After elite forces stormed two hostage sites, killing the brothers behind the Charlie Hebdo massacre and a jihadist accomplice in a fiery end that also claimed the lives of four hostages at a city center supermarket, sports honored the innocent lives lost.
In Montpellier in southern France, spectators at the top-flight soccer match between the home side and league leaders Olympique de Marseille observed a minute's silence before the national anthem.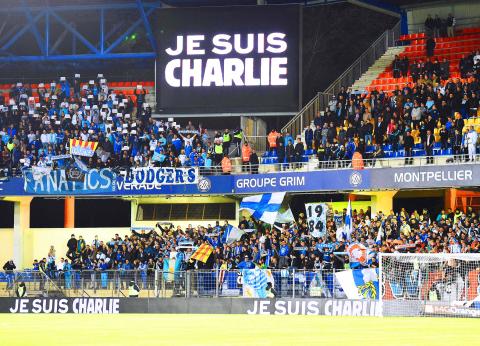 Supporters observe a minute's silence ahead of the game between Montpellier Herault and Olympique de Marseille at the Stade de la Mosson in Montpellier, France, on Friday, while a screen displays the words Je suis Charlie in tribute to the people killed in an attack on the headquarters of French satirical weekly Charlie Hebdo.
Photo: AFP
Players of both sides wore black armbands as the game at the Stade de la Mosson kicked off.
All amateur soccer games due to be played in Paris and the surrounding Ile-de-France region have been called off.
Paris Saint-Germain coach Laurent Blanc admitted it had not been easy to prepare for yesterday's Ligue 1 clash with SC Bastia in the wake of the Charlie Hebdo massacre.
"We have to work hard and train, even if it's not in a happy context," Blanc said. "We got together in the center-circle at midday [Thursday, for the nationwide minute's silence] just like the rest of the country."
"Footballers are citizens who are not insensitive to what's happening," he said.
In London, Arsenal's French manager Arsene Wenger said he hoped his compatriots would stay united after the "dreadful and terrible" attacks.
Wenger expressed his dismay at the events and hopes that what happened will not polarize the French population along religious or ethnic lines.
"It is a dreadful and terrible situation," the Frenchman said. "It is shocking. I think the whole country is shocked."
"France is a country with a freedom of speech, it has a big history and to think in a country like France you can die today because of your ideas and the way you want to speak is absolutely shocking," he said.
In Australia, Oman's French soccer coach Paul le Guen said he was in shock.
Speaking ahead of Oman's Asian Cup game against South Korea yesterday, the ex-Lyon boss sent his condolences to families grieving in France.
"It's unusual, but I want to say one word about what has happened in France," the former PSG star said, unprompted.
"My thoughts are with the families in France who were involved in this drama. We feel very sad, we are in a state of shock," Lu Guen said.
Comments will be moderated. Keep comments relevant to the article. Remarks containing abusive and obscene language, personal attacks of any kind or promotion will be removed and the user banned. Final decision will be at the discretion of the Taipei Times.