Djokovic says rising stars may outshine 'Big Four,' as top names test new league
With a crop of talented young players such as Kei Nishikori and Milos Raonic knocking on the door of the exclusive men's Grand Slam club, the "Big Four" hegemony in top tournaments may be coming to an end, Novak Djokovic has said.
World No. 1 Djokovic, Switzerland's Roger Federer, Rafael Nadal of Spain and Briton Andy Murray have won 36 of the last 39 Grand Slam titles.
When Croatia's Marin Cilic beat Japan's Nishikori in this year's US Open final, it was the first time since the 2005 Australian Open that a men's Grand Slam final did not feature Djokovic, Nadal or Federer.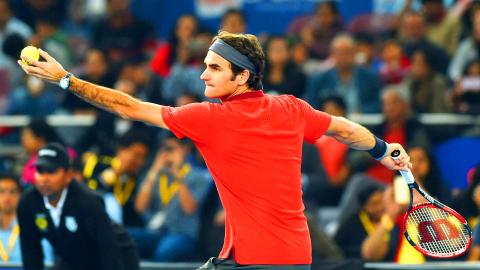 Switzerland's Roger Federer serves to the Musafir.com UAE Royals as he plays for the Micromax Indian Aces in their International Premier Tennis League men's doubles match in New Delhi on Monday.
Photo: AFP
Djokovic expects the upcoming season to be even more competitive than the last, which saw four different Grand Slam winners, including first-time champions Cilic and Stanislas Wawrinka of Switzerland.
"It's really unpredictable, it's going to be hard to say who are the clear favorites to win the Grand Slams," the Serb told reporters late on Monday after playing in the India leg of the International Premier Tennis League (IPTL).
"Obviously, Cilic, Wawrinka and some new names who have been winning Grand Slam titles and challenging the best and winning against the best in the big events, they have proven to everybody that it is possible," he added.
"The dominance of first of all Roger and Rafa over the years was fantastic. Then Andy Murray and myself, we got into the mix and us four have been winning most of the big events in the last six, seven, eight years," Djokovic said. "Now it's normal to expect that there is a new generation of players, younger players that are right at the top like Nishikori, Raonic, [Grigor] Dimitrov who have the quality to win against the best and they have done that. It's definitely going to be an interesting year."
Bulgarian world No. 11 Dimitrov has impressed Pete Sampras, but the US great said he felt that in the end, Djokovic, Federer and Nadal might still dominate Grand Slams.
"Novak is the obvious choice," said the 14-time Grand Slam winner, one of the past champions playing IPTL. "Roger is very motivated to get to No. 1; Rafa is uncertain with his health, but I feel once he is healthy, he will be in the mix. I see guys threatening them, but when push comes to shove, you'll see those three guys in the second weeks of majors, in the semi-finals and finals."
Djokovic and Federer finished the IPTL's India leg with a highly anticipated meeting in front of a frenzied New Delhi crowd on Monday.
The one-set match ended in a 6-6 stalemate under the format rules, which meant Djokovic's Musafir.com UAE Royals team came away with a 29-22 win over Federer's Micromax Indian Aces.
With its emphasis on speed, fun and noise, an IPTL tie comprises five one-set shootouts in men's and women's singles, men's and mixed doubles and a past champions match with the team that wins the most games, not sets, declared the winner.
Additional features include a 20-second serve clock, a "Happiness Power Point" in which a point is worth double once per set, no advantages, no lets, coaching timeouts and a five-minute shootout if a match is tied at 5-5.
Earlier, Federer teamed with Gael Monfils to beat Djokovic and Nenad Zimonic in doubles. Each team has both past and present stars from the men's and women's Tours.
Federer gave a lukewarm response to the new league after making his debut for the Indian Aces.
"My mind was definitely scrambling trying to remember all the rules," said Federer, a late replacement for the injured Nadal.
Federer won his men's singles, doubles and mixed doubles against Singapore Slammers at the Indira Gandhi Indoor Stadium, but said he found some of the rules "strange" and others unnecessary.
"The one I think is most unnecessary here is like when you start the motion and let's say you miss the ball toss, that counts as mistake," he said.
Traditionalist Federer said he understood the drive to speed up the game, but felt it put a lot of pressure on the players.
"The way it is right now, I don't think it will work as a Tour event," said Federer, who agreed to play only the Delhi leg. "Maybe there's something we could take away from this, but at the end you know how I am. I'm very traditional and I like the way the game is on Tour."
Federer, however, did like the team format of the league, which also attracted world No. 1 Serena Williams, Djokovic and Murray.
"It's not going to replace how we play the Tour, but it definitely has a place in our sport to have more interaction, more fun, different rules," he said. "You bend it, you customize it, it works for everyone involved. It's a very interesting concept."
Comments will be moderated. Keep comments relevant to the article. Remarks containing abusive and obscene language, personal attacks of any kind or promotion will be removed and the user banned. Final decision will be at the discretion of the Taipei Times.