Dregs of NFL still able to set sights on playoff place
Going south is exactly what the Saints, Panthers, Falcons and Buccaneers have done this season, yet one of them is set to play in January.
As it should, the NFL places a premium for the playoffs on winning a division. The problem is the team that makes the postseason from the NFC South is more likely to be the lucky loser.
Of course, the four clubs would argue that they can replicate what the 2010 Seahawks did, winning the NFC West division with a 7-9 record, then beating 11-5 New Orleans, a wild-card team, in the first round of the playoffs.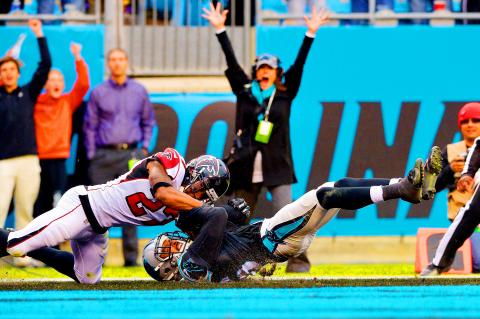 Carolina Panthers wide receiver Philly Brown, bottom, makes his first NFL receiving touchdown, under pressure form Atlanta Falcons cornerback Robert McClain, during their game at Bank of America Stadium in Charlotte, North Carolina, on Sunday.
Photo: AFP
One of them is set to get that opportunity — in a pure bit of irony, it could wind up being Seattle that gets the wild card with a superior record and then heads to the road for the opening round of the Super Bowl tournament.
Regardless, there are likely to be screams of protest that a seven-win, perhaps even a six-win team, gets to keep playing.
"Yeah, it's a crazy situation," said Panthers safety Thomas DeCoud, who knows all about the division from playing six seasons with the Atlanta Falcons before joining Carolina this year. "The way the season is going I don't want to say that somebody up there is a Panther fan, but somebody is giving us every opportunity to stay in the chase. But, now, we just got to start capitalizing on those opportunities."
If anyone has failed to do so thus far, it is Carolina, which started 2-0, including a win over Detroit, and then was 3-2-1, with the tie coming against Cincinnati, before dropping five straight. The Lions and Bengals have been first-place teams.
Yet with their 3-7-1 mark, the Panthers trail the Falcons (4-6) and Saints (4-6) by only a half-game even though their offense has stagnated (71 points in the losing streak) and their offense is, well, offensive in the wrong manner.
At least they get a bye this week to lick their wounds and figure out some answers. Not that many answers are needed in this division.
To think the Falcons have figured things out would be misguided, too. Yes, they are 4-0 in the division, but 0-6 against real opponents.
Yet they sit atop the NFC South and remain optimistic even though they have played an easy schedule that now gets much tougher.
"No, that does not matter," running back Steven Jackson said of the team's record. "We have to continue to do our job. We're now back in the driver seat of our destiny and that's where we want to be. Ultimately you have to continue to win. You can't look for anybody else to help you out."
Perhaps that is true in other divisions, where winning most every week is critical. In the Falcons' sector, they have climbed back into contention as much because the Saints were losing at home to San Francisco and Cincinnati as for anything the Falcons managed.
"I think it's good," said a laughing quarterback Matt Ryan, whose performances — like the rest of the team — have been spotty. "It's been a different year, for sure, but you play to be relevant in November and December, and as quirky as this year has been, we're relevant. And we've got to keep going."
Even the Buccaneers at 2-8 remain, to use Ryan's term, relevant.
However, does anyone see Tampa Bay as capable of winning four or five of the final six games, even after the Bucs' victory in Washington on Sunday?
Doubtful. There are some who would not see the Bucs winning that many over the next four or five months, given the chance.
Most perplexing in this division of defeat is New Orleans.
The Saints seem to be the most talented of the four NFC South squads, with the most dynamic offense, a strong home-field advantage and plenty of experience.
Except that the offense has sputtered in key spots, especially late in games when experience should matter most; the defense is mediocre at best; and the Big Easy has not been such a tough place to visit.
"I think every team around this league doesn't care what their record is as long as they're in the playoffs," Saints guard Jahri Evans said. "That's kind of the second season, just getting there, and that's the goal. Right now we're sitting here at 4-6, with a losing record, and talking about playoffs. We can get there at 7-9. Teams have done that before," he said.
Evans might be aiming too high. The NFC South winner could sneak in with fewer victories than that.
Comments will be moderated. Keep comments relevant to the article. Remarks containing abusive and obscene language, personal attacks of any kind or promotion will be removed and the user banned. Final decision will be at the discretion of the Taipei Times.