Stanton gets 'landmark' Marlins deal
BIG SPENDERS: The new US$325m deal has more than tripled the Miami side's previous biggest contract deal of US$106m with Jose Reyes in 2012
MAJOR LEAGUES
Twice All-Star outfielder Giancarlo Stanton has agreed to an eye-popping contract extension worth US$325 million over 13 years with Major League Baseball's Miami Marlins, the most lucrative deal in US professional sport.
"This is a landmark day," Marlins owner Jeffrey Loria told MLB.com by phone on Monday. "I'm happy for the city, I'm happy for him and I'm thrilled for baseball. We have a player who is committed to us, and we've committed to him for the life of his career."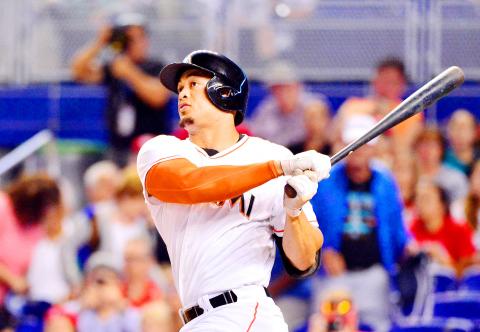 Miami Marlins right fielder Giancarlo Stanton hits a home run against the Cincinnati Reds at Marlins Ballpark in Miami, Florida, on July 31.
Photo: Reuters
The deal includes a no-trade clause and Stanton, who is aged 25 and led the National League (NL) with 37 home runs last season, can opt out after six years, Loria said.
The mind-boggling move more than triples the previous biggest contract reached by the Marlins — US$106 million spread over six years for Jose Reyes in 2012.
The deal also exceeds the previous MLB record of US$292 million over 10 years agreed to by Miguel Cabrera with the Detroit Tigers in March.
"It's great for this franchise and the city," Loria said. "Besides being a terrific athlete, he's a first-class young man. I've loved watching him play, but I love this kid. He's just a special young man."
There is scheduled to be an official announcement at the Marlins' ballpark today, according to the report on the league's Web site.
A second-round pick by the Marlins in the 2007 MLB Draft, Stanton is one of the most feared power hitters in baseball and, despite playing his home games in the spacious surrounds of Marlins Park, has blasted 154 career homers.
He led the NL in slugging percentage (.555) this season, finishing with a .288 batting average when his season ended prematurely after he was hit by a pitch in the face by Milwaukee Brewers pitcher Mike Fiers.
Stanton was awarded his first NL Silver Slugger Award and became the first Marlins player to win the Hank Aaron Award, which recognizes the top offensive performer in each league and is voted for by fans and a panel of Hall of Fame players.
The Toronto Blue Jays have signed free agent Canadian catcher Russell Martin to a multi-year contract, the Toronto Star reported on Monday.
The five-year contract is worth US$82 million and is not set to be finalized until Martin passes a physical examination. It does not carry a no-trade clause.
Martin, born in Toronto, but raised in Montreal, Quebec, spent the past two seasons as the Pittsburgh Pirates' catcher. He batted .290 with 11 home runs and 20 doubles, and drove in 67 over 111 games this year.
Since breaking into Major League Baseball with the Los Angeles Dodgers in 2006, Martin has compiled a career .259 batting average.
He has blasted 119 homers, 191 doubles, 540 RBI and 550 runs scored over 1,163 appearances for the Dodgers, New York Yankees and Pirates.
John Hart on Monday made his first big move as the new manager of the Atlanta Braves, trading two-time gold glove winner Jason Heyward and pitcher Jordan Walden to the St Louis Cardinals.
The Braves picked up pitchers Shelby Miller and Tyrell Jenkins for Walden and the 25-year-old Heyward, who hit .271 with 11 homers and 58 RBI in 149 games last season.
A five-year veteran, Heyward won gold glove awards in 2012 and this year. He has a .262 career batting mark with 84 home runs and 292 RBI to add to 63 stolen bases.
"Thank you to the Cardinals and their Fans for some great seasons and memories. Best of luck to the guys and the organization!" Miller said on Twitter on Monday.
"Also very excited to be a part of the @Braves. Ready to meet my new teammates and have a successful 2015! #chop," he added.
Additional Reporting by AFP
Comments will be moderated. Keep comments relevant to the article. Remarks containing abusive and obscene language, personal attacks of any kind or promotion will be removed and the user banned. Final decision will be at the discretion of the Taipei Times.