Emotional Jordanian claims shock medal
Lightweight boxer Obada Alkasbeh was carried shoulder-high from the ring yesterday crying tears of joy after upsetting South Korea's Olympic silver medalist Han Soon-chul in the Asian Games quarter-finals.
Alkasbeh swarmed all over the experienced Korean, 10 years his senior, from the opening bell with a barrage of blows to guarantee the 20-year-old Jordanian at least a bronze medal in the 60kg class.
He amazingly kept up the furious assault for the whole three rounds, throwing punches from all directions, forcing the gold medal favorite to retreat and try to box on the counter.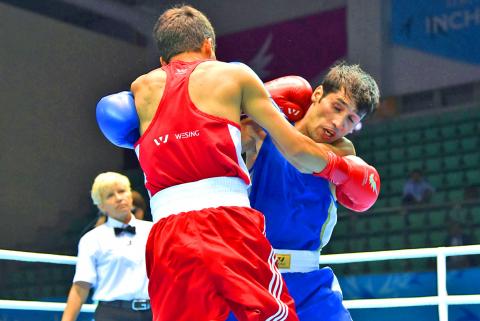 Muhammad Waseem of Pakistan, right, competes against Azat Usenaliev of Kyrgyzstan during their men's quarter-final boxing match at the Asian Games in Incheon, South Korea, yesterday.
Photo: AFP
Han did land two great body shots in the second that led to him edging that round on all three judges' scorecards as Alkasbeh missed more than he landed. However, it was never going to be enough after a third-round slugging match where Alkasbeh kept raining in blows.
The Jordanian could not hold back the tears as he was carried from the hall on the shoulders after the unanimous decision was announced.
He punched the air amid jubilant screams of mubarak ("congratulations") and chants of "Obada, Obada," from the Jordanian delegation who were hugging and kissing the victor.
"I'm delighted with the bronze, but it is only a step on my road to the gold medal for Jordan," an emotional Alkasbeh said. "Arab nations don't win many medals in boxing, so I want to share my joy with the people in Jordan."
Han who was beaten in the London 2012 Olympic final by legendary Ukrainian Vasyl Lomachenko (396 amateur wins, one defeat) said he could not cope with Alkasbeh's furious energy levels.
"I am exhausted," he said. "And I hurt my left hand, but that is not any excuse. I lost fair and square."
Alkasbeh may not find it so easy to dominate against the classy Charly Suarez of the Philippines in tomorrow's semi-final.
"I would like to give the glory to God, who gave me strength and power to achieve this victory," Suarez said after putting in an accomplished display of boxing to see off Iraq's Ammar Jabbar Hasan.
The other lightweight semi-final will be between Otgondalai Dorjnyambuu of Mongolia and Satoshi Shimizu of Japan, who both won unanimous decisions.
Shimizu had too much power and precision for China's Wang Lei and Dorjnyambuu knocked down Kyrgyzstan's Akhol Sulaimanbek in the first round. The easy win delighted a sizeable Mongolian contingent in the Seonhak Gymnasium.
In the flyweight division, critics of a controversial decision to dispense with headguards in amateur boxing headguards were given more ammunition yesterday when Pakistan's Muhammad Waseem claimed an Asian Games medal just seconds into his quarter-final.
Waseem and Azat Usenaliev accidentally clashed heads moments after the opening bell, with the Krygyzstan boxer suffering a nasty gash above his eye.
Unable to continue, the referee had no option but to stop the fight with just 28 seconds gone and award Waseem a technical knockout win.
Waseem advances to the semi-finals, where he will face Uzbekistan's Shakhobidin Zoirov and is thus guaranteed a at least a bronze medal.
The International Amateur Boxing Association (AIBA) discarded headguards last year in a bid to align more closely with the professional game.
Britain's former Olympic silver medallist Amir Khan has been critical of the new regulation, saying fighters need protection.
Comments will be moderated. Keep comments relevant to the article. Remarks containing abusive and obscene language, personal attacks of any kind or promotion will be removed and the user banned. Final decision will be at the discretion of the Taipei Times.