Monkeys overtake Lions to win series
Five unanswered runs by the Lamigo Monkeys in the bottom of the eighth turned a 0-2 deficit into a 5-2 lead as they held on with a perfect ninth to defeat the Uni-President Lions at the Taoyuan International Baseball Stadium last night to clinch the weekend series.
Yeh Chu-hsuan's sacrifice fly to right-field off Lions closer Kuo Hung-chih that scored Lin "Chubby Kid" Hung-yu from third sparked what ended up being a five-run eighth for the Primates as they rallied from two down with unusual discipline at the plate by drawing three straight walks off one of the league's premier closers to deny the Lions the victory.
"It's an honor to be able to make a contribution for the win," Yeh said after the game after receiving the MVP award from officials.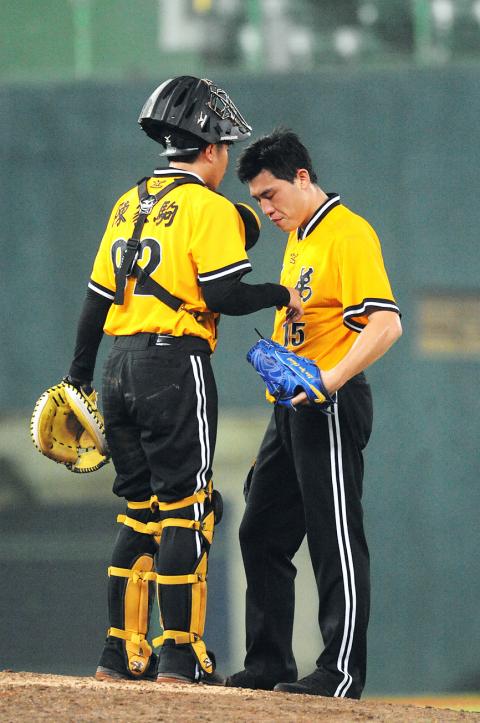 Chinatrust Brothers pitcher Lin Yu-ching, right, reacts during their game against the EDA Rhinos at the Cheng Ching Lake Baseball Stadium in Greater Kaohsiung yesterday. The game was called off due to tropical storm Fung-Wong.
Photo: Chang Chung-yi, Taipei Times
His crafty swing to send an offering from Kuo past the Lions infield allowed just enough time to get a slow Lin Hung-yu to crash the plate for the go-ahead run in the decisive eighth.
The highly anticipated showdown between starters Amaury Rivas of the Lions and Wang Yi-cheng lived up to its billing as neither offense was able to score through the fifth with the former tossing one-hit ball and the latter keeping it scoreless despite giving up four hits over the same span.
Things changed when the Lions finally broke through in the top of the sixth, with Chang "OEO" Tai-shan taking Wang deep for a solo home run that made it 1-0 before Lin Chih-hsiang's two-out single with a runner on second scored the Lions second run of the game in the top of the seventh.
The 2-0 lead for the road Cats lasted less than an inning as the Monkeys jumped all over Rivas' successor, Fu Yu-kang, with a pair of singles in the eighth to force skipper Chen Lien-hung to bring in Kuo an inning earlier than he would have like.
Kuo's early entry proved irrelevant for the Lions as he went deep in the count against the next three batters he faced to walk in two straight runs before giving up the game-winner to Yeh.
Comments will be moderated. Keep comments relevant to the article. Remarks containing abusive and obscene language, personal attacks of any kind or promotion will be removed and the user banned. Final decision will be at the discretion of the Taipei Times.