Recovered Serena eyeing Stanford win
Serena Williams finally realized what happened days later, when she was allowed to get out of bed.
Williams said she was barely aware of how sick she was as she tried to play through a viral infection that caused her to lose equilibrium during a women's doubles match with sister Venus at Wimbledon. It was only later, when she was able to clear her head, that she realized the seriousness of her situation.
"It was interesting and I was scared after," Serena said. "I didn't realize how I felt until later. In the moment I didn't realize how sick I was. It's weird, but that's the fight in me. I never know when to say when."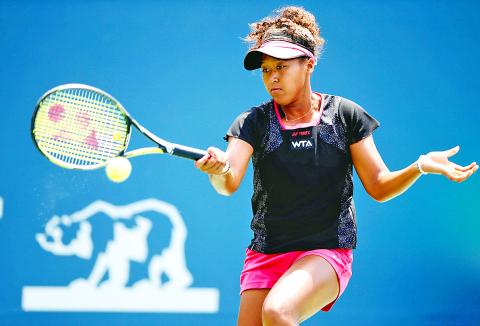 Japan's Naomi Osaka returns to Samantha Stosur of Australia in their Bank of the West Classic first-round singles match in Stanford, California, on Monday.
Photo: AFP
She would have continued had Venus not insisted that she get off the court.
"She kept saying: 'walk off the court, I'm the older sister and I say you have to leave.'" Serena said. "I'm feeling really good right now and I'm happy to be here."
Serena said she will undergo a series of tests at the end of the season.
"I was really ill," she said. "I got to thinking about a lot of things and because of family history, I'll get the tests done and we'll go from there."
Serena apparently expected to play in Bastad, Sweden, the following week until her mother nixed the idea.
Doctors would not let her leave her room, so she got some much-needed rest before resuming a full schedule that included a working vacation and a movie shoot.
"I was going to stay in Europe and play in the tournament," Serena said. "Going to Croatia was unexpected. I'm glad I went. It was so pretty."
Serena's long-time hitting partner Sascha Bajin suggested the trip, telling her "there are more tennis courts than people there, and there were tennis courts everywhere you looked."
She practiced in the morning and took it easy the rest of the day.
"I was running and swimming, and jumping in the ocean," Serena said. "I tried to stay away from the sharks. That's pretty good motivation. I didn't want to be eaten by sharks."
Serena maintained that after three days in bed, she had already moved on and stopped thinking about it. She also ignored Internet rumors.
Looking comfortable and relaxed, the world No. 1 said she is ready to renew her pursuit of excellence on the court.
She meets the Czech Republic's Karolina Pliskova today in the second round of the Bank of West Classic. Pliskova beat Japan's Kimiko Date-Krumm 6-1, 6-3 on Monday.
"I've always felt good about this tournament and just being here," Serena said. "This has always been a special place for me."
She used the Bank of the West to restart her career in 2011, recording her first WTA Tour title in more than a year. She was ranked world No. 175 at the time and finished the year No. 12.
Serena, who has appeared in numerous television shows, is shooting a movie in Toronto.
"I don't know if that's supposed to be secret. I love doing films, I always have," she said.
Third seed Angelique Kerber watched Williams practice and does not see anything wrong in her game.
"She is back, for sure," Kerber said. "She's the favorite here and she is a champion. We'll see what happens in the next few days."
In other first-round matches, Germany's Andrea Petkovic recorded a 6-1, 6-4 win over Croatia's Alja Tomljanovic and also benefited from the elimination of an experienced potential opponent in the next round.
Petkovic dropped serve twice, but produced six breaks of her own as Tomljanovic struggled on serve, getting less than half her first serves into play.
Petkovic, whose career has been interrupted by knee injuries, next faces 16-year-old qualifier Naomi Osaka of Japan, who defeated former US Open champion Samantha Stosur 4-6, 7-5 (9/7), 7-5.
Osaka won three straight points to claim the tiebreaker and take the match to a third set, where she trailed 5-3 before breaking Stosur's last two service games.
Qualifier Sachia Vickery of the US defeated China's Shuai Zhang, 6-1, 6-2 and fellow American Varvara Lepchenko beat Caroline Garcia of France 6-4, 6-3.
Comments will be moderated. Keep comments relevant to the article. Remarks containing abusive and obscene language, personal attacks of any kind or promotion will be removed and the user banned. Final decision will be at the discretion of the Taipei Times.