Cards hand Brewers seventh straight loss
MAJOR LEAGUES
Adam Wainwright pitched seven strong innings and the St Louis Cardinals sent Milwaukee to their seventh straight loss, 10-2 on Saturday as the Brewers mourned the death of shortstop Jean Segura's young son.
Segura left the team and traveled home to the Dominican Republic, a day after his nine-month-old son died. The Brewers observed a moment of silence for Janniel Segura, and the clubhouse was closed before the game. Manager Ron Roenicke said the boy had been ill.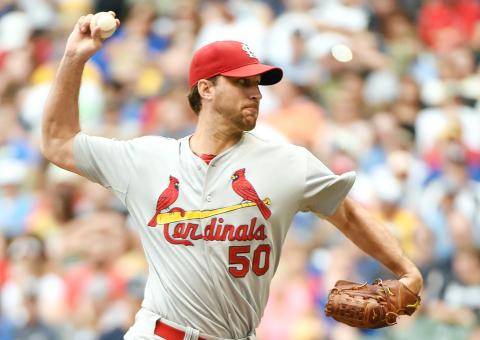 St Louis Cardinals pitcher Adam Wainwright pitches in the first inning against the Milwaukee Brewers in Milwaukee, Wisconsin, on Saturday.
Photo: USA TODAY
Tony Cruz drove in a career-high three runs and Kolten Wong homered as the Cardinals pulled into a first-place tie with Milwaukee, who have lost 11 of 12, in the NL Central. St Louis trailed by 6.5 games on July 1.
Wainwright (12-4) gave up two runs and five hits, tying Cincinnati's Alfredo Simon and the Yankees' Masahiro Tanaka for the most wins in the majors.
WHITE SOX 6, INDIANS 2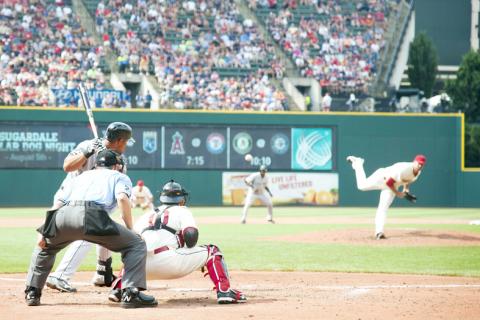 Starting pitcher Zach McAllister of the Cleveland Indians, right, pitches to Jose Abreu in Cleveland, Ohio, on Saturday.
Photo: AFP
In Cleveland, Jose Abreu hit his major league-leading 29th homer, a two-run shot that sent the Chicago White Sox over the Cleveland Indians and ended a three-game losing streak.
Abreu, picked for the AL All-Star team in his rookie season, broke a scoreless tie in the fourth inning with his drive off Zach McAllister (3-5). The homer cleared the fence in right field and landed in the White Sox's bullpen for Chicago's first hit.
Scott Carroll (4-5) held Cleveland to two hits in five shutout innings before being pulled with a stiff lower back. The rookie right-hander has won two straight starts, in which he has not allowed a run over 11-2/3 innings.
YANKEES 3, ORIOLES 0
In Baltimore, Rookie Shane Greene pitched four-hit ball into the eighth inning of his second major league start, Derek Jeter had two hits and an RBI and the New York Yankees beat the Baltimore Orioles.
Greene (2-0) struck out nine and walked two in his third big league appearance. The right-hander did not give up a hit until the fifth inning and allowed only two runners past second base in 7-1/3 innings. David Robertson, the third New York reliever, worked a perfect ninth for his 23rd save.
It was only the third loss in 12 games for the Orioles, who finished with five hits. Chris Tillman (7-5) gave up three runs, seven hits and three walks in 6-2/3 innings.
BRAVES 11, CUBS 6
In Chicago, Chris Johnson homered twice and pitcher Mike Minor hit his second career home run, leading the Atlanta Braves over the Chicago Cubs.
Johnson and Justin Upton each drove in four runs for the Braves. Johnson and Minor homered and Upton hit a three-run double as Atlanta scored six times in the fourth inning for a 9-3 lead.
Minor (3-5) allowed six runs and 11 hits in six innings. He improved to 6-0 in his career against the Cubs as the Braves won for the second time in seven games.
Chris Coghlan hit two doubles and drove in three runs for the Cubs, who have lost seven of nine. Edwin Jackson (5-10) lasted just 3-2/3 innings after giving nine runs, seven hits and three home runs.
In other MLB action, it was:
‧ Diamondbacks 2, Giants 0
‧ Mets 5, Marlins 4
‧ Twins 9, Rockies 3
‧ Astros 3, Red Sox 2
‧ Rays 10, Blue Jays 3
‧ Tigers 5, Royals 1
‧ Angels 5, Rangers 2
‧ Pirates 6, Reds 5, 11 Inns
‧ Nationals 5, Phillies 3, 10 inns
‧ Mariners 6, Athletics 2
‧ Dodgers 1, Padres 0
Comments will be moderated. Keep comments relevant to the article. Remarks containing abusive and obscene language, personal attacks of any kind or promotion will be removed and the user banned. Final decision will be at the discretion of the Taipei Times.