Cheng wins at Taiwan's first ONE FC
WARRIOR SPIRIT: Paul Cheng fought a war against his opponent and two other Taiwanese triumphed in their bouts at Taiwan's first ONE FC mixed martial arts event
Eric Kelly stopped "Ruthless" Rob Lisita with a rear naked choke 3 minutes, 40 seconds into the second round of their bout to position himself for a shot at the ONE Fighting Championship's featherweight title, while Taiwanese heavyweight contender Paul "The Typhoon" Cheng emerged victorious from a grueling war with Egypt's Mahmoud Hassan at ONE FC's first event in Taiwan on Friday night.
The fights were watched by a boisterous, near-capacity crowd at the 4,200-seat National Taiwan University Sports Center in Taipei and broadcast to more than 70 countries.
The two other Taiwanese fighters on the card also posted victories, with Hsinchu-based mixed martial arts pioneer Sung Ming-yen returning to the cage for the first time in two-and-a-half years to choke out Singapore's Nick Lee 1:10 into the first round, and Taipei's Jeff Huang scoring a first-round TKO over seven-time Indian national Muay Thai champion Bela Shetty.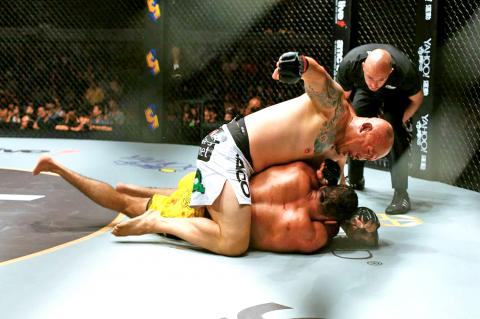 Taiwanese heavyweight contender Paul Cheng, top, unleashes his ground-and-pound against Egypt's Mahmoud Hassan in the first round of their ONE FC mixed martial arts bout at the National Taipei University Sports Center in Taipei on Friday night.
Photo courtesy of ONE FC
In the co-main event, Koji Ando handed Brazil's Rafael Nunes his first defeat, stopping the fight only 1:43 into the opening round by rear naked choke.
The main event featherweight clash between Kelly, of the Philippines, and Australian Lisita was a compelling, closely fought, back-and-forth affair.
There was no feeling-out process, with the aggressive Lisita getting off to an explosive start by connecting with a lead right hand only seconds after the bell and following it up with a left hook.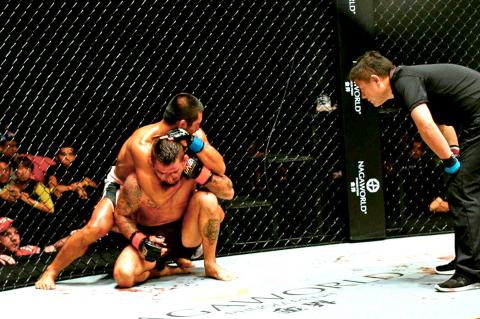 Philippine featherweight Eric Kelly, back, sinks a rear naked choke on Australia's Rob Lisita in Friday's main event of ONE FC: War of Dragons, the first event staged in Taiwan by Asia's biggest mixed martial arts promotion.
Photo courtesy of ONE FC
The fighters clinched and traded knees before going to the ground, where Lisita dominated through much of the round.
Near the end of the round, Kelly came on, taking Lisita's back, where he attempted a rear naked choke, the technique with which he had won five of his 10 victories before this fight. Lisita escaped the choke and regained his feet, and the round ended with the two again trading knees in the clinch.
The second round began as aggressively as the first, with the two trading punches before going to the ground, where Lisita took Kelly's back. Blood began pooling beneath the fighters, with Kelly having suffered an apparent broken nose. Kelly seemed to be in trouble, but managed to slip back through Lisita's legs and reverse the position, taking the Australian's back. Referee Yuji Shimada called time out to allow the ring physician to examine Kelly's nose, which had both fighters and the canvas covered in blood.
Action resumed with the fighters put back in position, with Kelly on Lisita's back, but Lisita worked his way free, made his feet and landed a front kick that snapped the Filipino's head back.
The fighters clinched, trading knees until Kelly took Lisita down with a leg trip. Lisita gained side control, then took the Filipino's back, but Kelly engineered a stunning reversal, moving into a half-mount before taking Lisita's back and sinking a rear naked choke to submit the Australian.
The win improved Kelly's record to 11-1-0, while Lisita's fell to 14-6-0. Kelly also earned a US$50,000 bonus that ONE FC chief executive Victor Cui has started offering to the outstanding fighter of the night.
The main event disappointed no one, but for many of those in attendance, the real main event was probably Taipei-born Taiwanese-Canadian heavyweight Cheng's epic battle with former Egyptian national boxing champion Hassan.
Cheng, who is vying to become the first-ever Asian heavyweight world champion, electrified the crowd as he made his entrance, with he and his team wearing "Made in Taiwan" T-shirts and bearing the national flag on his trunks, although they did not carry a large flag with them to the ring as Cheng had originally envisioned.
The bad blood between the fighters that revealed itself at the weigh-in when they butted heads was immediately in evidence as they refused to touch gloves before the fight. After the bell, Cheng immediately waded in on Hassan, eager to engage, but was caught with a straight right.
Cheng responded by swinging for the fences and the fight turned into a brawl only seconds into the opening round. Cheng swung wildly, while Hassan was more accurate, landing two punishing left hooks and a right. Cheng attempted a takedown; Hassan sprawled and Cheng bulled him into the cage. Hassan sank a deep guillotine choke that reddened Cheng's face, but Cheng responded with punches to the Egyptian's side as the crowd chanted: "Jia you!" (加油)
Finally, Cheng managed to pry his head free, and the crowd roared in approval. The escape put him in control, leaving him free to rain down punches on Hassan's head from a half-mount. He transitioned into side control, landing vicious knees to Hassan's head and body, as well as elbows. Hassan's attempt to escape gave Cheng his back, and the Taiwanese unloaded a barrage of heavy punches as the Egyptian desperately tried to protect his head.
Referee Oliver Coste hovered close, on the verge of stopping the fight, but the Egyptian somehow survived a full minute of punishment before the bell finally rang and he was able to struggle to his feet.
However, Cheng also emerged from the round badly hurt, with his right eye swollen completely shut as he labored for every breath.
Both fighters appeared fatigued. They began the second round more tentatively, before again trading punches. Hassan knocked Cheng down with a straight right and charged in with a flying knee to try to finish him, but Cheng executed a surprise double-leg takedown from his knees as Hassan approached.
Hassan began bleeding badly from a cut over his left eye, prompting Coste to call time to have the cut examined. With time in, Cheng attempted a double-leg take down, Hassan sprawled, Cheng completed the takedown and Hassan again sank a guillotine, exerting every bit of his considerable strength to keep Cheng locked in.
However, Cheng managed to free his head, then worked past Hassan's half-guard and transitioned from side control into a full mount. From there he tried to administer his ground-and-pound, but was exhausted, and with little left in his punches, was unable to finish Hassan before the bell rang to end the round.
Cheng was fortunately spared what would likely have been the longest five minutes of his life when Hassan was unable to come out for the final round, giving the Taiwanese a technical knockout and improving his record to 5-1-0.
"He was getting tired. I was too. Tough guy. Good match. Let's go, Taiwan," Cheng told ONE FC commentator Jason Chambers in the post-fight interview. "My dog Ninja's in the hospital. Pray for him; I love that guy."
Cheng told the Taipei Times yesterday that fighting before a home crowd helped spur him on to the hard-fought win.
"I was fighting hard and was determined to win for my family, and so the crowd's support meant a lot to me," he said. "I want to thank them for their tremendous support."
"Hassan is no doubt a strong fighter and I knew it wasn't going to be easy. But I was hungry to win and so I never backed down," he added.
Elsewhere on the undercard, Taiwan-based American Eliot Corley knocked out Southeast Asian Games karate gold medalist Rayner Kinsiong of Malaysia in the first round, while Greater Taichung-based Frenchman Florian Garel was choked out by Hong Kong's Nathan Ng.
Japan's Koetsu Okazaki scored a second-round TKO against Russia's Yusup Saadulaev, the US' Jake Butler knocked out Egypt's Mohamed Ali in the third and undefeated English heavyweight Chi Lewis Parry won by TKO against Hong Kong-based Cameroonian Alain Ngalani in the first round.
Comments will be moderated. Keep comments relevant to the article. Remarks containing abusive and obscene language, personal attacks of any kind or promotion will be removed and the user banned. Final decision will be at the discretion of the Taipei Times.