WORLD CUP: Uruguayans, the president included, back striker Suarez
From the president down to soccer players and fans, Uruguayans rallied behind Luis Suarez on Wednesday as their controversial hero risked a possible World Cup ouster for biting an opponent.
On social networks and in the streets, the volatile 27-year-old's compatriots played down the incident with Italy defender Giorgio Chiellini.
"I did not see him bite anyone, but they give each other so many kicks and blows, and normally they put up with it," Uruguayan President Jose Mujica told reporters, describing Suarez as "an excellent player."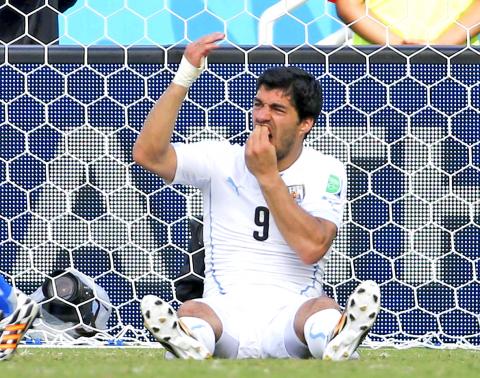 Uruguay's Luis Suarez holds his teeth after clashing with Italy's Giorgio Chiellini in their FIFA World Cup Group D match in Natal, Brazil, on Tuesday.
Photo: Reuters
However, some reactions were also tinged with regret, shame, anger and fear over the fallout from any FIFA punishment that could deprive Uruguay of their best player for the rest of the World Cup.
Uruguay play Colombia tomorrow in the round-of-16 elimination round.
FIFA officials met late on Wednesday to decide whether to punish Suarez after gathering evidence over the incident. They were due to meet again yesterday.
Suarez allegedly bit Chiellini in Uruguay's 1-0 victory over Italy on Tuesday, which eliminated the European team. It was his third biting offense since 2010.
Uruguay captain Diego Lugano lashed out at the British media, saying it was "persecuting" the Liverpool striker — an argument echoed by many in the South American nation of 3 million.
"It wasn't a bite, it was a headbutt, and we can only imagine what the other guy must have said to provoke him," supporter Noelia Tabarez said. "They're always testing Suarez to see how he'll react."
She was one of many to question the events in the Brazilian city of Natal, but even those who accepted that he had bitten Chiellini defended Suarez.
"He's not going to stop being a hero because of one mistake," Santiago Campomar, 24, said.
However, Alcides Ghiggia, who scored Uruguay's World Cup-winning goal in Rio de Janeiro in the 1950 final, said Suarez clearly needs help.
"This boy's clearly not right in the head. That's just not something you do on the pitch," Ghiggia said. "He already did it before in England and now he's done it again. It's abnormal. It's a football match — not a war or a fight."
As Suarez's Facebook profile filled with dozens of messages in English and Italian branding him a "cannibal," other users rallied behind him.
"Be strong Luis. It's clear they're persecuting you," Facebook user Sandra said. "You're Uruguayan. We're like a stone in the shoe. We bother people. We're a small country, but our people are big."
Another user, Nestor, said: "If the supposed bite had been by any other player, nobody would have spent even a second on it. The problem is that it's Suarez."
Others attacked the Italy team and the British press.
El Observador said that "the crazy Suarez is back," but stood up for the Liverpool star.
"This episode was all it took for the British media to eat up Luisito again," it said.
Some Uruguayans hunted down examples of unpunished transgressions in the past, others scrutinized Chiellini's record for any evidence of misconduct.
Web site montevideo.com published a 2012 photo of Chiellini that purportedly showed that the Italy defender "has had this scar for years."
Comments will be moderated. Keep comments relevant to the article. Remarks containing abusive and obscene language, personal attacks of any kind or promotion will be removed and the user banned. Final decision will be at the discretion of the Taipei Times.