Experts pan Blatter's claim of soccer's birth
Images of a beaming FIFA president Sepp Blatter and a small blue certificate in the Chinese city of Zibo proclaim it as the birthplace of soccer, to the fury of English experts.
A map in Zibo's Qi State History Museum shows a thin line stretching from China to Egypt, then to Greece, Rome and France, before finishing in England, commonly known as the home of soccer after the rules were codified there in the 19th century.
The track represents the path of soccer's development, according to the museum, with the certificate — signed by Blatter — honoring China as "the cradle of the earliest forms of football," but international experts are skeptical of such claims, pointing to a "tenuous" link between the ancient Chinese game of cuju and the modern sport, and questioning FIFA's motives.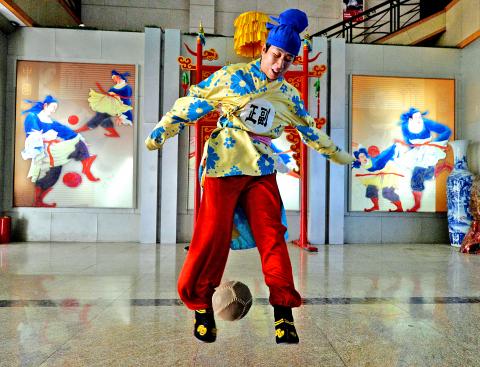 A traditional Chinese cuju player shows his skill at the Zibo Football Museum in Zibo, Shandong Province, China, on May 15.
Photo: AFP
Despite its long supposed soccer history, China's national team failed to qualify for the FIFA World Cup finals in Brazil next week.
China has only appeared at one finals, in 2002, when they lost all three of their group matches and went out without even scoring a goal, but millions of fans will be watching the tournament and in Zibo — the modern city on the site of the ancient Qi state's capital Linzi — soccer is booming.
Statues of cuju players stand on street corners and posters on bus shelters depict the supposed forebear of the modern game.
"I really like Sepp Blatter," beams Zhu Shuju, vice director at the separate Zibo Football Museum, which pays homage to the sport's history, and gives huge prominence to Blatter and other FIFA officials.
"He is very popular here," she added, surrounded by images of Blatter and with a video of his speech confirming Zibo's status continuously looping in the background.
Zibo has invited Brazilian superstar Pele to open a new multimillion-dollar museum later this year.
Different types of cuju existed in ancient China, but the competitive game still played today involves keeping a leather ball stuffed with feathers off the ground without using arms or hands, before heading or kicking it though a hole above head height.
A gladiatorial version with much physical contact emerged in the Warring States period which unified China almost 2,500 years ago and was popular with soldiers exercising their legs after days on horseback, but experts outside China believe there are huge differences between cuju and modern soccer.
"I find it absurd to suggest ancient Chinese had comparable mentalities as football enthusiasts today," Ellis Cashmore, professor of culture, media and sport at Britain's Staffordshire University, said via e-mail. "So the link is tenuous."
Historians say other ball sports existed at about the same time as cuju emerged, including a Greek game known as episkyros.
An ancient stone carving at the Acropolis Museum in Athens shows a naked Greek athlete balancing a ball on his thigh and some say episkyros evolved into a game played by the Romans, called harpastum, which was then transported to Britain.
There the modern game was born when the Football Association rules, drawing on a public school mob game, were written by Ebenezer Cobb Morley in 1863 and they have since changed very little.
For British historian Tom Holland, soccer began in the 19th century.
"I'm afraid I don't know anything about the classical origins of football, for the simple reason they don't exist," Holland said. "Kicking something around is an obvious human activity. That various peoples, in various parts of the world, may or may not have engaged in such activities does not prove that they were the originators of football."
British soccer author Jonathan Wilson agreed, saying that the 1863 rules "were then spread across the world by British sailors and traders."
"At no point did they come upon a local form of football that needed to be eradicated before the British game could take root," Wilson said. "Rather, foreign cultures took on those laws and interpreted them in their own way."
Eyebrows were raised when FIFA came out in support of China's claims.
"Blatter sees his brief to make football the richest sport in history and he has already achieved that, but to maintain its commercial dominance, he needs to keep conquering new territories," said Cashmore, whose book Football's Dark Side explores corruption in the game. "China is obvious: huge territory, an economy that's been growing like a blur and a population that has already shown enthusiasm for the sport."
FIFA and Blatter have been criticized for several decisions in recent years, most vociferously over the controversial award of the 2022 FIFA World Cup to a tiny Gulf emirate that has immense gas wealth, but sweltering summer temperatures.
British historian Guy Walters, from London's New College of the Humanities, said: "Frankly, I'm surprised he hasn't stated that the game kicked off in the ancient deserts of Qatar."
Comments will be moderated. Keep comments relevant to the article. Remarks containing abusive and obscene language, personal attacks of any kind or promotion will be removed and the user banned. Final decision will be at the discretion of the Taipei Times.