Braves finally get better of Giants
BREAKING THROUGH: Atlanta's Mike Minor got his first win in his ninth start this season, striking out six batters in 6-2/3 scoreless innings to set up their win over San Francisco
MAJOR LEAGUES
Atlanta beat San Francisco for the first time in five attempts this season, with starting pitcher Mike Minor in command as the Braves won 5-0 in Tuesday's clash of National League divisional leaders.
Elsewhere, Oakland maintained their handy buffer atop the American League West by crushing the Chicago White Sox, Detroit beat Baltimore in dramatic style with a Miguel Cabrera homer when the team was down to their final strike, and Kansas City pitcher James Shields cooled down hot-hitting Colorado.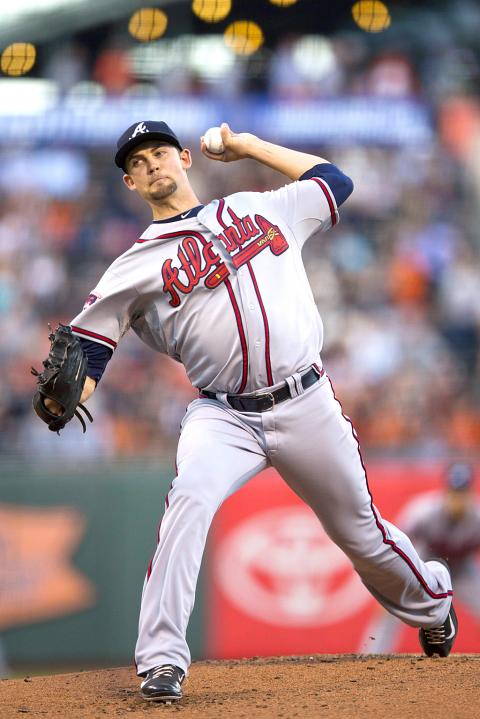 Mike Minor of the Atlanta Braves pitches during the first inning of their game against the San Francisco Giants in San Francisco, California, on Tuesday.
Photo: AFP
Atlanta's Mike Minor (1-2) finally broke through for his first win in his ninth start of the season, striking out six batters in 6-2/3 scoreless innings.
Evan Gattis drove in a run with his first career triple, while Freddie Freeman, B.J Upton and Andrelton Simmons added RBI singles in a three-run sixth inning for the Braves, who moved 2-1/2 games clear atop the NL East.
Oakland made it six straight wins by routing the White Sox 11-0.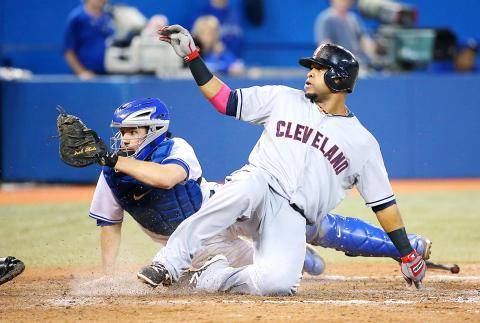 Carlos Santana of the Cleveland Indians, right, is tagged out at home plate by Josh Thole of the Toronto Blue Jays in the eighth inning of their game on Tuesday at the Rogers Centre in Toronto, Canada.
Photo: AFP
Brandon Moss homered twice and Josh Reddick once, while Yoenis Cespedes added two hits and scored twice to anchor a shuffled Athletics lineup.
Oakland starter Drew Pomeranz (3-1) pitched five shutout innings with eight strikeouts as the A's improved to 25-15 — their best 40-game record for 11 years.
Detroit benefited from a reversed call to stage an improbable ninth-inning comeback and win 4-1 at Baltimore.
The Orioles led 1-0 going into the ninth. Pitcher Tommy Hunter gave up a leadoff single and pinch-runner Rajai Davis was called out trying to steal second. However, Detroit manager Brad Ausmus challenged the call and it was overturned after a replay review.
Hunter (1-1) got two straight outs before walking a batter and then Miguel Cabrera laced a curveball over the center-field wall. Victor Martinez followed with a homer of his own to make it 3-1 and Justin Miller protected the lead in the bottom of the inning with all three outs.
Kansas City's James Shields was dominant as the Royals won 5-1 at home against Colorado.
Shields (5-3) went seven innings and retired the final 10 batters he faced, striking out the side in the sixth inning and fanning Troy Tulowitzki for the 1,500th strikeout of his career.
Lorenzo Cain and Salvador Perez both homered, while Alcides Escobar added a pair of RBIs for the Royals.
Los Angeles pitcher Josh Beckett earned his first victory since 2012 as the Dodgers beat Miami 7-1.
Beckett (1-1) gave up one unearned run over 6-2/3 innings with six strikeouts. The three-time All-Star was 0-6 in his previous 14 starts and had a rib removed last July in a surgery to alleviate a nerve condition that was affecting his right arm.
Marlins starter Jacob Turner (0-1) remains winless in his past 16 starts, dating back to July last year.
Milwaukee's Jonathan Lucroy hit a bases-loaded, two-run single which helped the Brewers beat Pittsburgh 5-2.
Carlos Gomez scored the second run on Lucroy's single in the third after getting hit by a pitch from Gerrit Cole (3-3). It was their first meeting since the teams brawled last month in Pittsburgh after Cole and Gomez exchanged words.
Gomez later left the game with a back injury, while Ryan Braun returned from injury, but was taken out of the game after the sixth inning as a precaution.
Toronto's R.A. Dickey guided the Blue Jays to a 5-4 win over Cleveland.
Dickey (4-3) allowed four hits in six-plus innings for Toronto and the narrow lead he provided was preserved when Melky Cabrera threw out Carlos Santana at home plate to end the eighth inning.
Juan Francisco homered and Adam Lind hit a two-run double for the Blue Jays.
The New York Mets won 12-7 at the crosstown Yankees, with Curtis Granderson and Daniel Murphy each hitting three-run homers.
Granderson connected for the second consecutive game against his old team, helping the Mets jump out to a quick lead after they used four homers to rally for a 9-7 victory the night before.
The Mets roughed up fill-in starter Vidal Nuno (1-1) in a result that left the local rivals on identical 19-19 win-loss records.
Minnesota's Chris Parmelee hit a game-ending homer in the ninth inning to give the Twins an 8-6 win over Boston.
Tampa Bay rallied in the ninth inning to win 2-1 at Seattle, while David Price struck out 12 in his second complete game this season.
Los Angeles' Luis Jimenez hit a tiebreaking two-run double in the sixth inning which helped the Angels edge Philadelphia 4-3.
San Diego's Chase Headley homered in the ninth inning to lift the Padres to a 2-1 win over Cincinnati.
Arizona's Bronson Arroyo pitched a complete game and also singled twice in a 3-1 victory against Washington.
St Louis' Greg Garcia was hit by a pitch with the bases loaded and one out in the 12th inning, bringing in the winning run as the Cardinals beat the Chicago Cubs 4-3.
Houston's Dallas Keuchel pitched his first major league shutout, steering the Astros to an 8-0 win over state rival Texas.
Comments will be moderated. Keep comments relevant to the article. Remarks containing abusive and obscene language, personal attacks of any kind or promotion will be removed and the user banned. Final decision will be at the discretion of the Taipei Times.