Italy mulls tougher soccer violence laws after Coppa
The most serious shooting victim of last week's violence-marred Coppa Italia final has been given the all-clear by doctors, as politicians take a hard look at how to eradicate "ultra" fans from Italian soccer.
Ciro Esposito, 30, was given the all-clear by doctors in Rome late on Sunday after undergoing a delicate operation to remove a 7.65-caliber bullet that punctured one of his lungs before lodging dangerously close to his spinal cord.
Police have charged 48-year-old Daniele de Santis — a hardline AS Roma fan who has already served bans for soccer-related violence — with attempted manslaughter for shooting at Esposito and two other SSC Napoli fans hours before Saturday's final between the Naples club and ACF Fiorentina.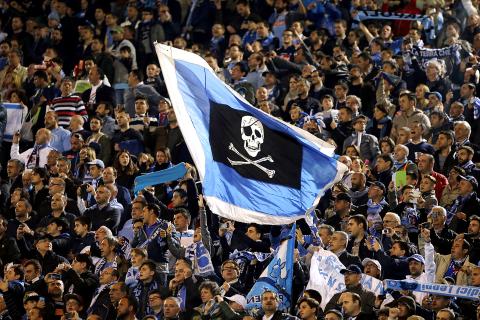 SSC Napoli fans wave flags prior to the start of their team's Coppa Italia final against ACF Fiorentina in Rome's Stadio Olimpico on Saturday.
Photo: AFP
Esposito's mother, Antonella Leardi, stunned local media when she said from her son's hospital bedside: "In my heart, I've already forgiven him [De Santis], but I cannot understand what he did. We are all supposed to be countrymen from Italy."
Saturday's incident near Rome's Stadio Olimpico adds to the long list of soccer-related clashes between fans of rival Italian clubs, who seem to require little motivation to embrace violence.
Italian Prime Minister Matteo Renzi was among dozens of high-ranking government officials who watched as the Coppa final was delayed for 45 minutes after news of the shootings filtered through to Napoli's ultra supporters.
Hardline supporters often hold great sway within major clubs and it is alleged that Napoli's ultras ordered the club not to play.
When rumors that a youth had been killed by police spread at a Roma-SS Lazio derby in 2004, fans rioted and, after Roma captain Francesco Totti spoke to the ultra leaders, the authorities called the game off.
During Saturday's delay, Napoli captain Marek Hamsik was ushered over to speak with Napoli ultras leader Gennaro de Tommaso, who was holding court at the front of the stands.
Also known by the gruesome nickname Genny 'a Carogna (Genny the carcass), De Tommaso is the son of alleged Camorra mafia boss Ciro de Tommaso and for the past week, his photograph has been splashed all over Italian media.
Soon after the talk with Hamsik, a new kickoff time was scheduled, but the national anthem was still widely whistled and jeered.
Napoli president Aurelio de Laurentiis later played down the role of the ultras' influence in causing the delay, telling reporters: "The fans give their hearts and passion to the shirt right to the end. So to talk with those groups without the police present seems to me a sign of responsibility both on the part of the organizers and the fans."
The Bianconeri went on to win the match 3-1, prompting their fans to rush the pitch en masse and run toward the stadium's Fiorentina fan section.
Such violent incidents have heaped huge embarrassment on a country in crisis and already fighting to shed a longstanding reputation for hooliganism.
"In addition to whoever shot the victims, people like Genny 'a Carogna should be jailed immediately. They have made a mockery of the state," said Maurizio Gasparri, a vice president of the Italian Senate.
Italian Football Federation president Giancarlo Abete said: "It's a matter of fact: In the stadiums, ultras play an unacceptable role."
On Saturday, Gennaro de Tommaso boldly wore a black T-shirt emblazoned with the words: Speziale Libero, a call for the release of Catania fan Antonino Speziale, who was jailed for eight years for killing 40-year-old police officer Filippo Raciti with a block of concrete outside the Sicilian club's derby with Palermo in February 2007.
Italian police labor union SIAP hit out over the shirt, saying in a statement: "We're astonished that an ultra leader can decide when a game is played. It's incredible he was even allowed in to the game and even more surprising that nothing was done to remove him. We want to express our sympathy to [Raciti's widow] Marisa Grasso that, after seven years later, we still have to live through this."
Although Italy already applies one-year bans to fans deemed a security threat, there are urgent calls for authorities to get tougher.
Lega Serie A president Maurizio Beretta said individual thugs should be targeted and isolated, while Italian Minister of the Interior Angelino Alfano, who denied that ultras played a decisive role in the Coppa incident, called for life bans to be introduced — a proposal Beretta supports.
"We have cameras and nominative tickets, so it shouldn't be hard to identify people," Beretta said.
Comments will be moderated. Keep comments relevant to the article. Remarks containing abusive and obscene language, personal attacks of any kind or promotion will be removed and the user banned. Final decision will be at the discretion of the Taipei Times.