'Pitbull' tears into defense witness in Pistorius' hearing
The murder trial of Olympic and Paralympic sprinter Oscar Pistorius was adjourned on Thursday until May 5 after the state wrapped up three days of punishing cross-examination of a forensic expert brought by the defense.
Judge Thokozile Masipa granted the state's request for a postponement to avoid conflicts with other cases. Prosecutor Gerrie Nel — nicknamed "the Pitbull" for his aggressive style — tore into defense witness Roger Dixon, questioning his credibility and expertise.
Pistorius, 27, is on trial for the murder of girlfriend Reeva Steenkamp, whom he shot dead with four rounds from a 9mm pistol on Valentine's Day last year in his plush Pretoria house.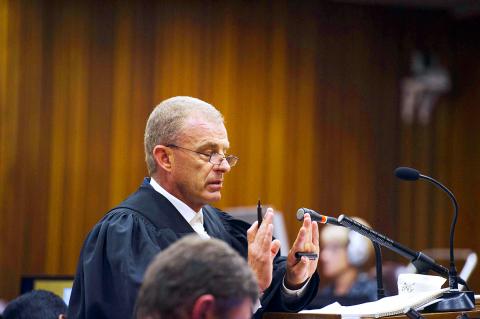 Chief prosecutor Gerrie Nel questions defense witness Roger Dixon, unseen, during cross-examination in the murder trial of Olympic star Oscar Pistorius on Thursday at the North Gauteng High Court in Pretoria.
Photo: AFP
The track star insists he killed the 29-year-old law graduate and model after mistaking her for an intruder hiding in the toilet.
Dixon, a forensic geologist and former police officer, testified that Steenkamp was standing at an angle to the door with her arm out in front of her, suggesting she was reaching for the handle, when Pistorius shot her dead.
The testimony challenged the version of the state, which has sought to portray Pistorius as a gun-obsessed hot-head who murdered Steenkamp after an argument.
However, Nel heaped scorn on Dixon's expertise, prompting Masipa to tell the advocate to restrain himself.
When the geologist said on Wednesday he tested the sound of a cricket bat hitting a wooden door to see if it could be confused with the sound of a gunshot, Nel asked: "Do you need to be an expert to do that? What expert skills did you use, wielding a bat? So your expertise was wielding a bat?"
At another point, Dixon confessed to being a "layman" with no professional experience in blood-spatter analysis, forensic pathology or ballistics.
After asking Dixon for another of his findings, Nel added: "I use the word 'finding' loosely."
The defense has sought to prove that some of Pistorius' neighbors mistook the sound of the track star breaking down the door with a bat for that of a gunshot. Pistorius says he broke the door in a frantic effort to save Steenkamp after realizing he had shot her.
The trial, which has garnered massive domestic and international attention, is due to resume on May 5. Defense advocate Barry Roux is expected to call his next witness once the trial resumes.
Comments will be moderated. Keep comments relevant to the article. Remarks containing abusive and obscene language, personal attacks of any kind or promotion will be removed and the user banned. Final decision will be at the discretion of the Taipei Times.